UK Classic Rockers CATS in SPACE have caused quite a stir since landing in 2015. With their unique sounds they will transport you back to the heady days of 70s Classic Rock. Think loud guitars and huge drums, walls of soaring multi-layered vocal harmonies, grandiose pianos and unforgettable sing-able choruses. It's purr-fect!
Originally a studio project devised by songwriter guitarist Greg Hart (writer for Asia, Mike Oldfield, Donna Summer, Moritz) and his writing partner Mick Wilson (10cc,ELO, Lulu, Cliff Richard) once drummer Steevi Bacon (Robin Trower, Dave Richards) came onboard the project soon turned into a fully-fledged rock band which recruited Dean Howard on guitar (T'Pau, Ian Gillan, Bad Company) Jeff Brown on bass (The Sweet, Statetrooper) Andy Stewart on keyboards (Moritz) plus vocalist Paul Manzi (The Sweet / Heavy Metal Kids).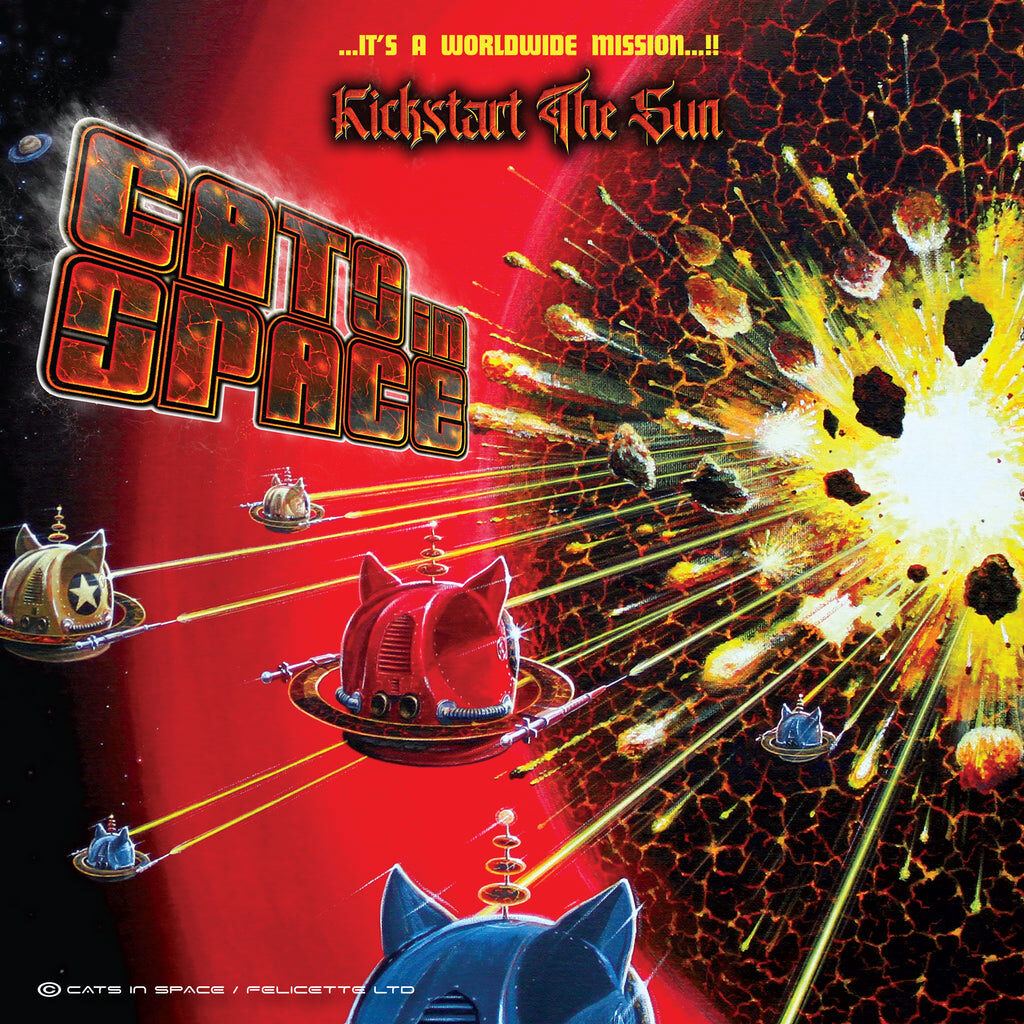 The bands debut album, 2015's 'Too Many Gods' along with 2017's 'Scarecrow' led to huge high profile shows touring with legendary rock giants Deep Purple, Status Quo & Thunder playing UK arenas, as well as Hyde Park with Phil Collins and Blondie.  In December 2018 the band released their third studio album 'Daytrip To Narnia', which led to a high profile support slot with Bonnie Tyler at the London Palladium.
Album number 4, 'Atlantis' was recorded throughout 2020 with new vocalist Damien Edwards, star of 'Jeff Wayne's War of the Worlds' live show onboard to replace Manzi (who left to join The Sweet after the Narnia tour). The bands sound and production went up several notches too. Edwards vocals gaining incredible comments, as one review stated "The UK vocal find of the Century". Reviews for the album were outstanding and 'Atlantis' has become the band's biggest selling album to date.
Christmas 2021 saw the band release their version of the classic Yuletide tune 'I Believe In Father Christmas' which kept the fans happy and engaged as the band were recording new material for their most adventurous release yet.
In 2022, and after nine months in the studio, the 'Epic' fifteen song double LP 'Kickstart The Sun' was unleashed, entering the UK National Rock Chart at number one and making the top twenty in three other national charts.  Aided by an avalanche of astonishing reviews, the new album has outsold its predecessors and the steady rise continues ever upwards. 
Kickstart The Sun was awarded Album of the Month in many of the world rock press outlets and in Australia, the album spent five weeks at number one in the Sentinel Daily Rock Chart!
Now that finally the pandemic is over,  business can resume. The band are currently on tour in the UK with the legendary Blue Oyster Cult!
Cats In Space are DAMIEN EDWARDS – Lead Vocals, GREG HART – Guitars, Vocals, STEEVI BACON – Drums, Percussion, Vocals, DEAN HOWARD – Guitars, Vocals, JEFF BROWN – Bass, Vocals, ANDY STEWART – Pianos, Synthesizers, Vocoder
Kickstart The Sun is out now
webstore.catsinspace.co.uk
Follow Cats In Space
Facebook | Instagram | Website | Spotify