2021 W.A.M. Rock Band of the Year awarded The Southern River Band are back with new single 'Watch Yourself (You're Going to Hurt Somebody)'. Built from a core of a strutting guitar riff, the complementing driving drums and melodic top notes oozes the famed swagger of the West Coast band.
The addictive mixture of classic Aussie banter with face-melting guitar solos and a powerful stage presence has led The Southern River Band to build an irrefutable reputation for delivering one of the best live acts around.  Their guitar fuelled madness and howling rock 'n' roll is a musical melting pot of influences that spans Queen, AC/DC, Skyhooks, Bad//Dreems and DZ Deathrays.
'Watch Yourself (You're Gonna Hurt Somebody)' is strutting Aussie Rock 'n' Roll at its best, that cruises with confidence. Steadfast, the song plays with dynamics, pulling and squeezing like the changing of sand dunes over the course of a summer. It's a swampy chug that is equally, and easily, able to be a belter of a singalong.
"We really wanted to write a hip shaking sing along here,In the age of self, self, self, this song is a bit of a warning in a sense, you know, that if ya just do whatever you want all the time without thinking about how that affects other people, inevitably you're gonna hurt someone. Juxtapose that with a good time rock 'n' roll boogie and a big old chorus and voila!" Cal Kramer, The Southern River Band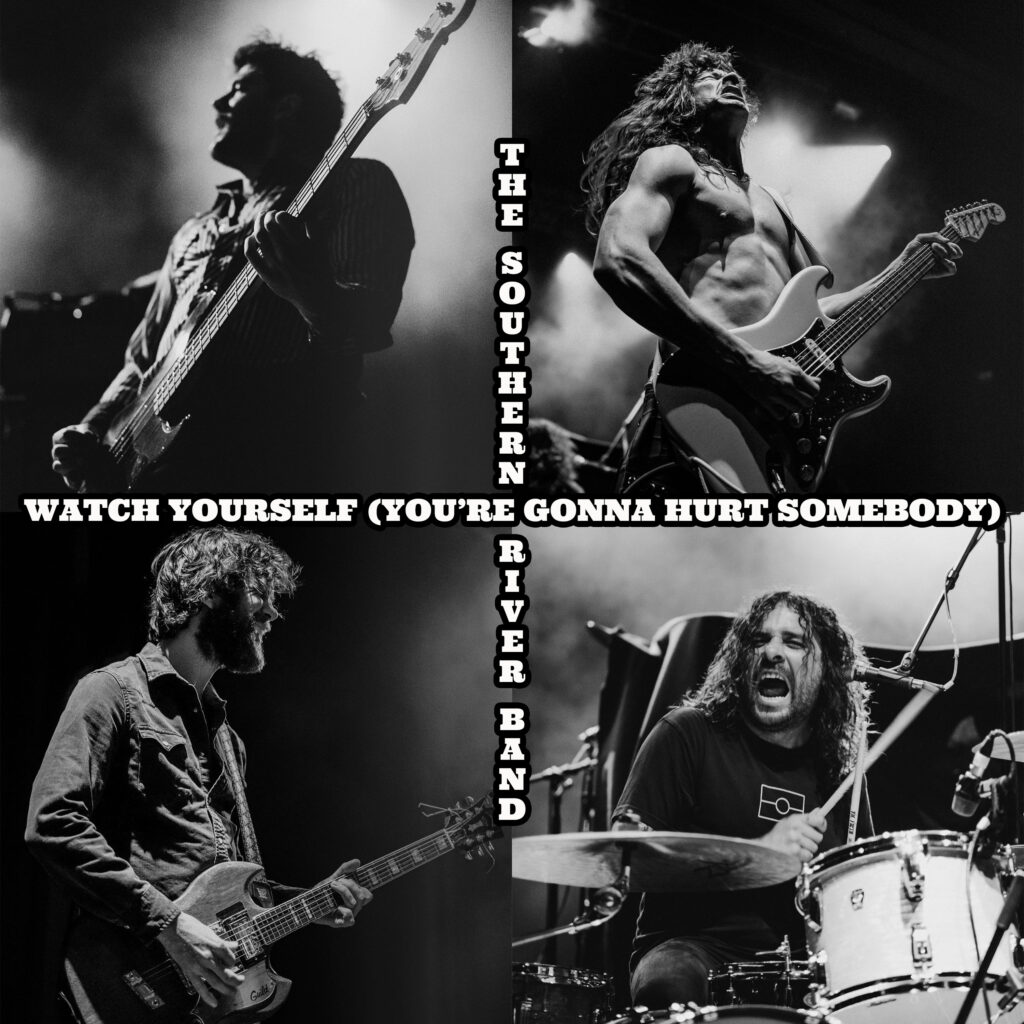 'Watch Yourself (You're Gonna Hurt Somebody)' was recorded in their hometown at RADA Studios. The track was mixed by Dan Carroll (Carla Geneve, Spacey Jane, Grievous Bodily Calm) & mastered by Grammy Award-winning Australian sound engineer William Bowden (Gotye, Spacey Jane, Kylie Minogue) at King Willy Sound.
The Southern River Band are Cal Kramer, Dr. Dobbin' Donny Carter, Pat Smith and Todd Pickett. Since the first iteration of the band in 2015, they have carved out a devout following in that time, those who are drawn to the new future of rock and roll.
Their powerful presences has travelled across Australia, playing monumental and career-defining festivals like Splendour XR, Groovin the Moo, 2021 AFL Brownlow Medal Broadcast, Boogie Festival, By the Pier Festival, Dashville Gumball, Sugarloaf Rock and Highway to Hell.
Beyond that, they have shared the stage with Cold Chisel, Wolfmother, Rose Tattoo, The Darkness, Birds of Tokyo, Amyl & The Sniffers, Gyroscope and Spacey Jane just to name a few.
Nothing is able to slow The Southern River Band from their love for live shows. Accompanying this release is an 8-stop national tour kicking off Friday November 11th. They will be bringing their famed stage presence to a number of venues including the Punk Rock Riot Festival in Adelaide.
"Can't wait to get back out on the road and see everyone again, if The Darkness tour is anything to go by, it's gonna be a REAL good time! The energy our fans bring is second to none, and we're gonna give it right back to ya!" Cal Kramer, The Southern River Band