As they prepared to take to the stage in the town of Arrasate, in Spanish Basque country, for the first show of their long awaited 2022 European tour, Melbourne's rock'n'roll kings The Casanovas surprised us all by dropping a hard-punching new single. Out this morning here at home, "When You Want Something From Me" is a tantalizing taste of the band's recently finished fifth album, which will be released in the new year.
Mixed by legendary US producer Ron Levison – a man who made his mark working on an engineer on The Who's Quadrophenia, Bad Company's debut and Led Zeppelin's Physical Graffiti before going onto produce Thin Lizzy, UFO and Kiss amongst others for chissakes! –  "When You Want Something From Me" is 3:35 of classic Casanovas; a pure distillation of the riff-heavy and melodic '70s hard rock that they love, bottled into the aural equivalent of one of those minibar miniatures that always leaves you wanting more.
The new single and forthcoming album follow the band's Covid-afflicted 2020 album Reptilian Overlord, which got the best reviews of the band's career.  The new recordings are the first to feature new drummer Brett "Wolfie" Wolfenden who joined in time to tour the last album and who has previously played with The Pictures, legendary Masters Apprentices frontman Jim Keays and Todd Rundgren. Wolfie is helping The Casanovas take their sound to new levels.
The Casanovas' European tour comes nearly 20 years to the month since they first toured Europe with The Datsuns. It takes in 15 shows across Spain, France, Holland, Sweden, Denmark, Germany (a performance on the legendary Rockpalast!) and France.
Stay tuned for further tour updates and more news about The Casanovas' new album.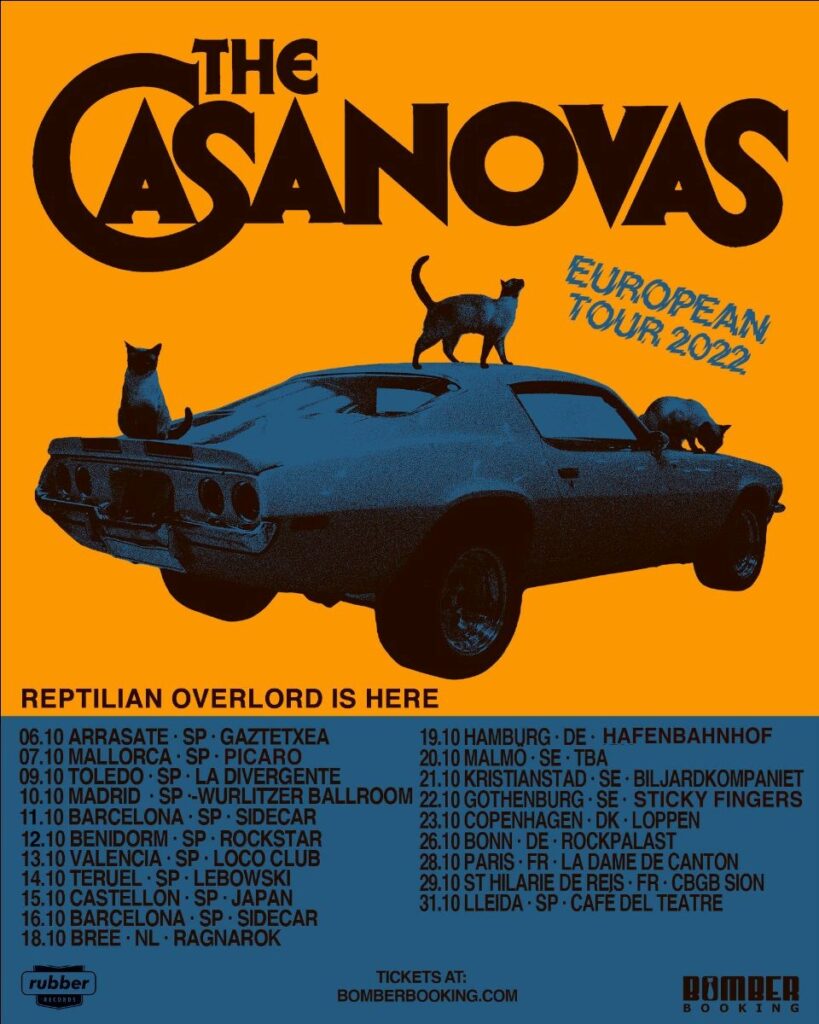 www.facebook.com/thecasanovas.rock/
www.instagram.com/thecasanovasband/
The Casanovas on Spotify!