Sydney alt-funk rockers Trigger Jo are set to release their immersive debut single 'Better You' on Friday, 23rd September. This bold new release shapeshifts between alt-rock, indie and funk genres to serve up a delightfully addictive concoction that will leave you craving more.
'Better You' showcases the group's irreverent song-writing skills, weighty lyrics and infectious melodies by merging britpop, hip hop and funk complete with synth solos and groovy basslines. Anthemic chorus' are sure to become an instant crowd favorite with infectious melodies sung over delectably exciting instrumentation and exhilarating fretwork. 'Better You' oozes attitude and vibrance, effortlessly punctuated by half timed passages allowing the song to move, breathe and expand with an organic and authentic flow.
Vocalist Rohan Parry on the new single: "We're pumped to finally have this song out in the wild after such a long journey! In many ways it's about being the better version of yourself in spite of your fears and failures, so we really want it to excite and motivate people the way it's done for us."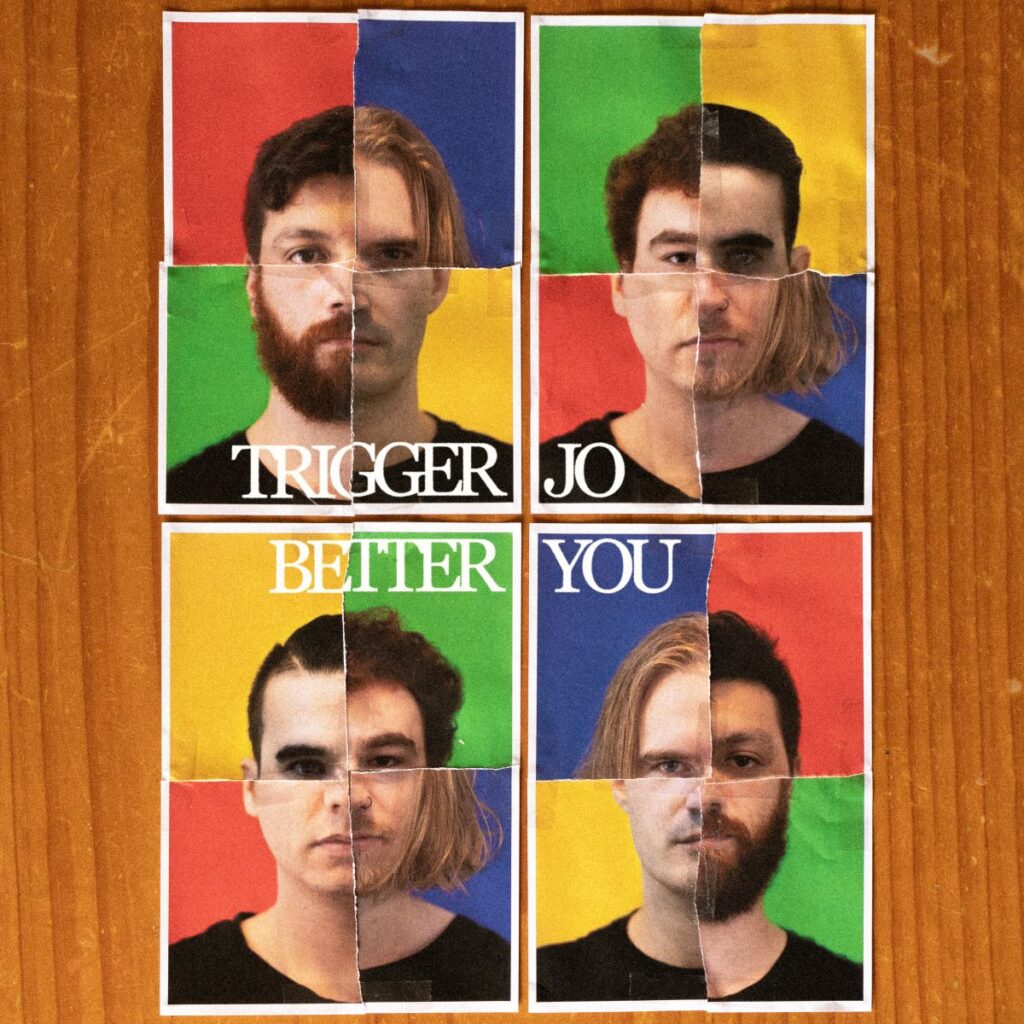 Since 2018, Trigger Jo has been slowly building a repertoire of tight, yet progressive tunes, with two self-produced debut singles soon approaching. Though new to the scene, Trigger Jo have a firm grasp on their vision, that is to surround the listener with sentimental melodies, captivating production, and an outro that begs to be sung by a crowd. Trigger Jo is an up and coming artist to keep your eyes on and we can't wait to see where it takes them.
CREDITS
Photography by Kristen Russel & Jen Hankin
Video by Trigger Jo
Recorded by Riley Woolcock & Rohan Parry
Mixed & Mastered by Rohan Parry
TRIGGER JO ONLINE
FACEBOOK – https://www.facebook.com/triggerjoband
BANDCAMP – https://triggerjo.bandcamp.com/
INSTAGRAM – https://www.instagram.com/trigger_jo/
YOUTUBE – https://www.youtube.com/channel/UC1TZS6i4CeSwD5CcrPPs5-A