There are 3 things in this world that are certainties – death, taxes and the fact that you will need hearing protection when you attend Stormrider Heavy Metal festival. It's loud, its heavy and it's a chiropractors dream. The line up was stellar in 2022: Street Creature, Electric State, Amberdown, Crypt Crawler, Depravity, Tempest Rising, Silent Knight and Metal Hits Project.
It was an 8-course meal of music goodness at Badlands, the menu had been meticulously planned with the ingredients sourced far and wide from Western Australia – local produce being the star of this meal, fit for a king.
I stroll into the venue around 4pm, belt loosened in preparation for my gluttony, wearing comfortable pants, ready to eat my fill of lyrical pavlova (I love a good Pav) knowing I am going to get this serving everywhere, I didn't really care. It's about the journey not the destination!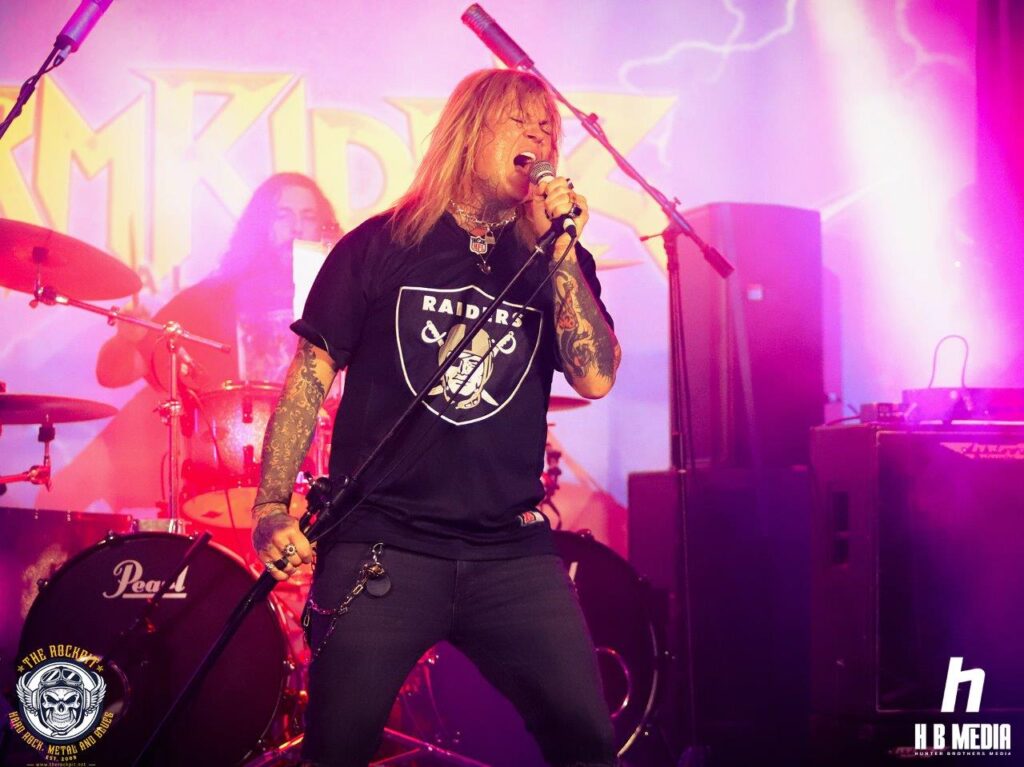 Decent crowd for the opening act of Street Creature – Metal aficionados don't usually venture our this early in the afternoon unless for a good reason, if Stormrider wasn't a good enough reason, they were going to get a swift kick in the trousers to quell their uncertainty.  The Creatures came out swinging for the fences, swallowing up all the space on the stage like a 4 year old being left unattended with a tub of chocolate ice-cream. The sugar rush was about to hit in the form of heavy guitar riffs and bouncing basslines. These lads obviously didn't get the memo about the opening act "Easing into it" …… maybe they did and didn't want to be told what to do, fuck it was refreshing and I loved it.
It was intense opener, I struggled to see how this tempo could be maintained or even ridden higher. It was the opener of an 8-course delight, this was going to be a hectic night of trying to fit more in than I could handle. The next serving was Electric State who had brought their friends Darryl and Janice to crash the party. This four-piece is like a bottle of fine wine it just keeps getting better and better every time I sample them. Refining their taste, it is hard not to pair them with something doesn't compliment them well. They were sharp, crisp and playful (as they always are with the crowd). I was eating and drinking my fill and enjoying every mouthful.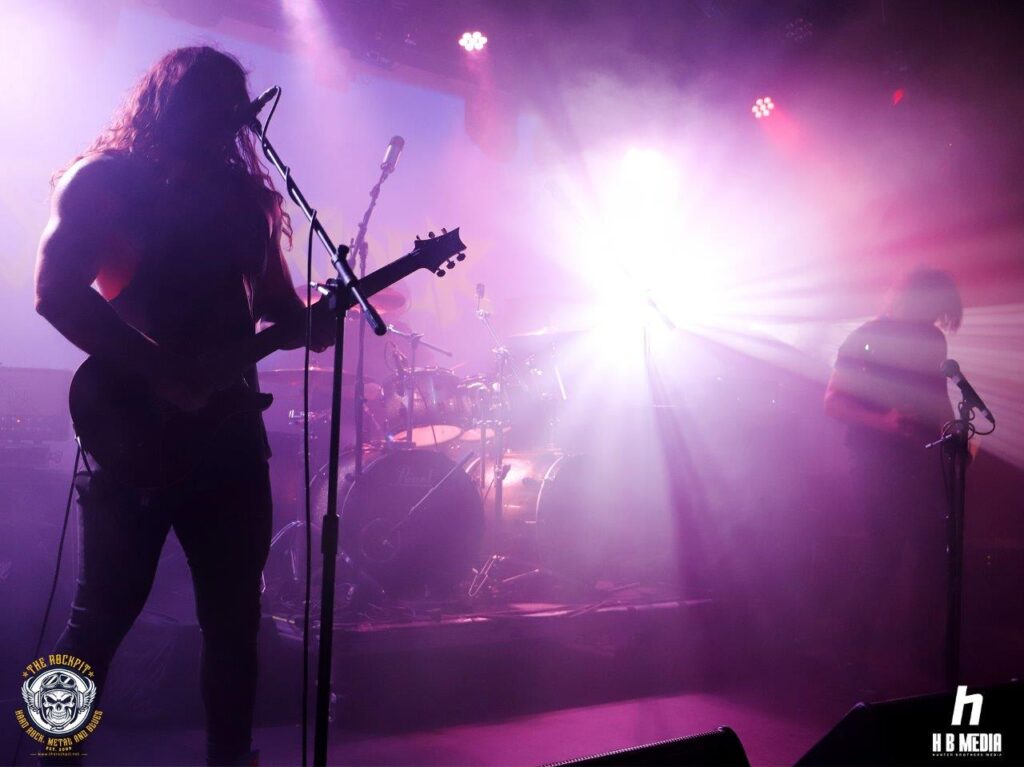 Next was a cheeky appetiser called Amberdown – a three-piece straight out of the oven of rock n roll with a sprinkle of metal undertones. These fellas hit their guitar lines and bass rolls hard……. Like a piñata filled with rock / metal candy they smashed it all over the stage and into the crowd. Punters scrambling to pick up the musical treats littered on the floor of the venue. They teased the crowd with more but just gave them enough to keep them at bay.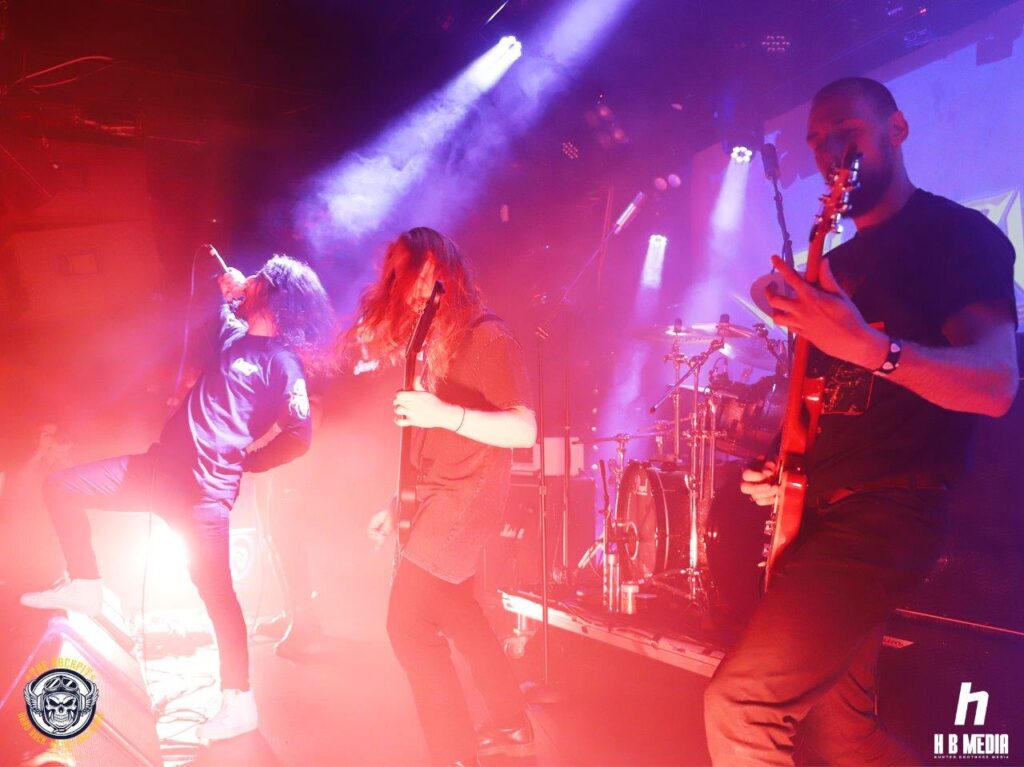 Crypt Crawler were next delivered to my table, Like a nervous waiter I knew what was being served – I felt like this was where the gig turned from heavy rock with sprinkles of metal into full metal anarchy. My taste buds were ready but I don't think they new just how hot it was going to get! I needed to get the "Milk" ready as I was about to break out in a sweat. Long hair flowed on stage, heads wind-milled whilst holding instruments it was the first heat filled meal of the night. The Crypt Crawlers did just that…… crawled straight into my ear and thrashed around violently in my brain. These lads where heavy, throaty and filled with passion –  which was apparent from the first song. It was just what I ordered.
After that I needed a drink… I grabbed a "jacks" and headed back into the musical diner that was Badlands.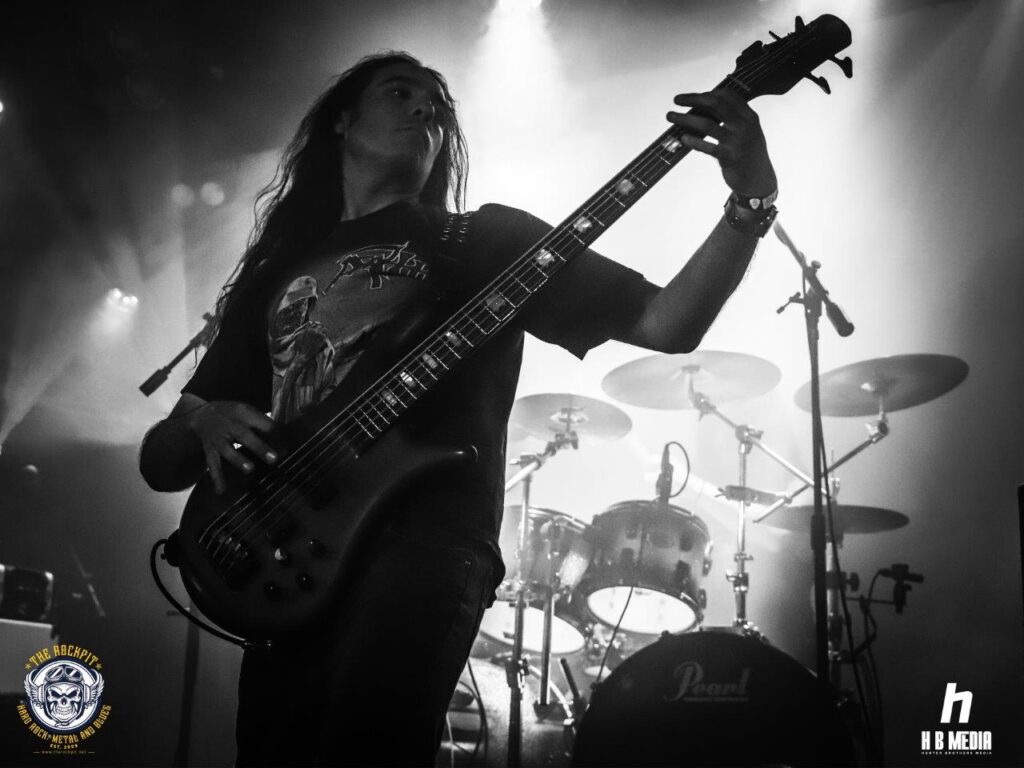 Up next was Depravity they were no stranger to me, I had seen them before in the metal battle area and being hardened veterans I knew what to expect. Intensity driven emotion (that's the best way I can explain it), it is hard to explain how metal in its truest form can affect people in different ways and these champions from Depravity had managed to master evoking emotion. I loved the engagement with the crowd and the heavy guitar riffs. This serving was fit for a 5 star restaurant.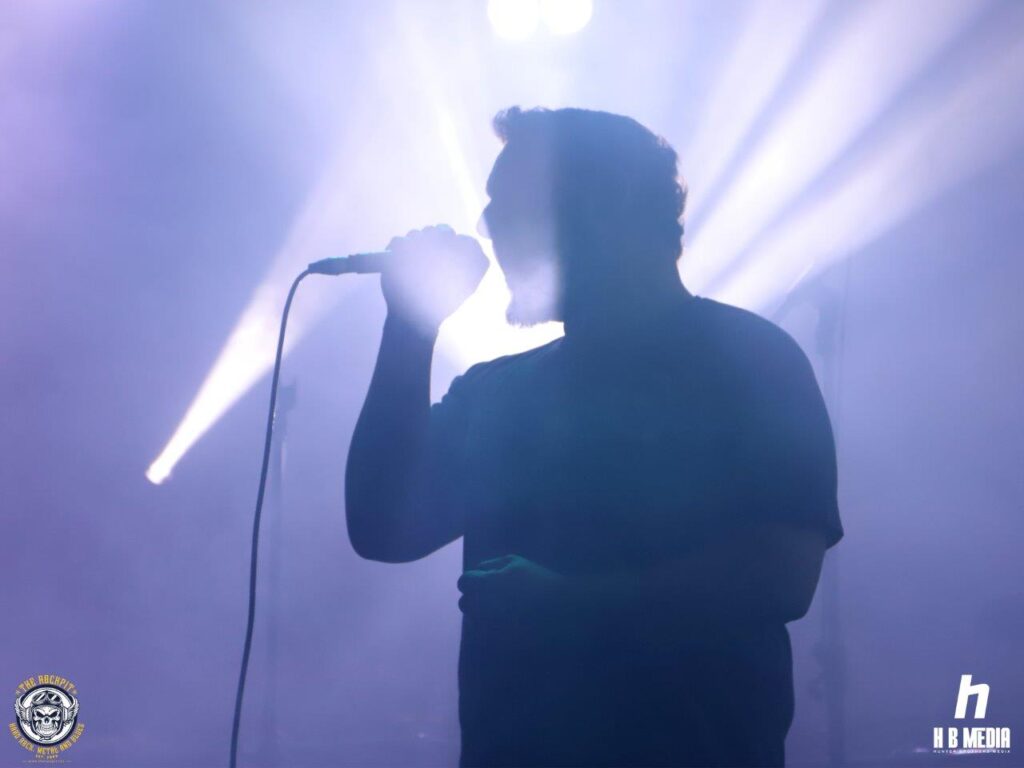 All the appetiser had been served and I was curious as to how I was going to fit anymore in….. but I knew Tempest Rising was next on the menu so I made space. Tempest have such a powerful presence on stage, the lads work together as one to take you on a journey putting the pieces of the puzzle together as they go. There is such a personal touch when it comes to their perform – I feel like they are performing just for me sometimes, it felt like they were my personal chef for the night making me favourite meal and they nailed the brief.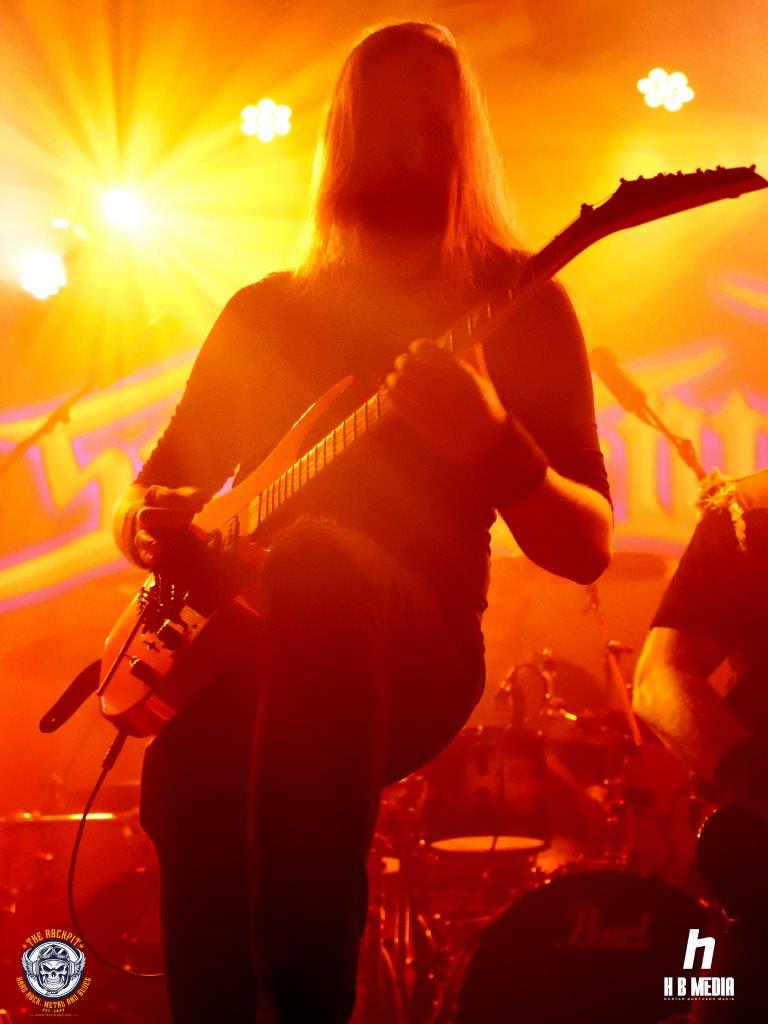 The steak of the night had just been served to my table – a generous five-piece rib eye filet cooked to perfection – medium rare, just the way I loved it…….enter Silent Knight. These lads were celebrating the release of their cracking album 'Full Force' and were ready to blow the lid off the venue with a 70 minute extravaganza, a mix of old, new and cheeky covers. They engaged, they thrilled, they excited and they entertained. I was really impressed by their extensive back catalogue of lyrical goodness, their interaction with their fans whilst maintaining their true rock-star status. For me this was the stand out performance of the night and I can only imagine just how exhausted they must have been serving everything to us for 70 minutes. It was hectic to witness from start to finish but like having an amazing meal it finished with a big smile on my face with a full belly…. I was stuffed.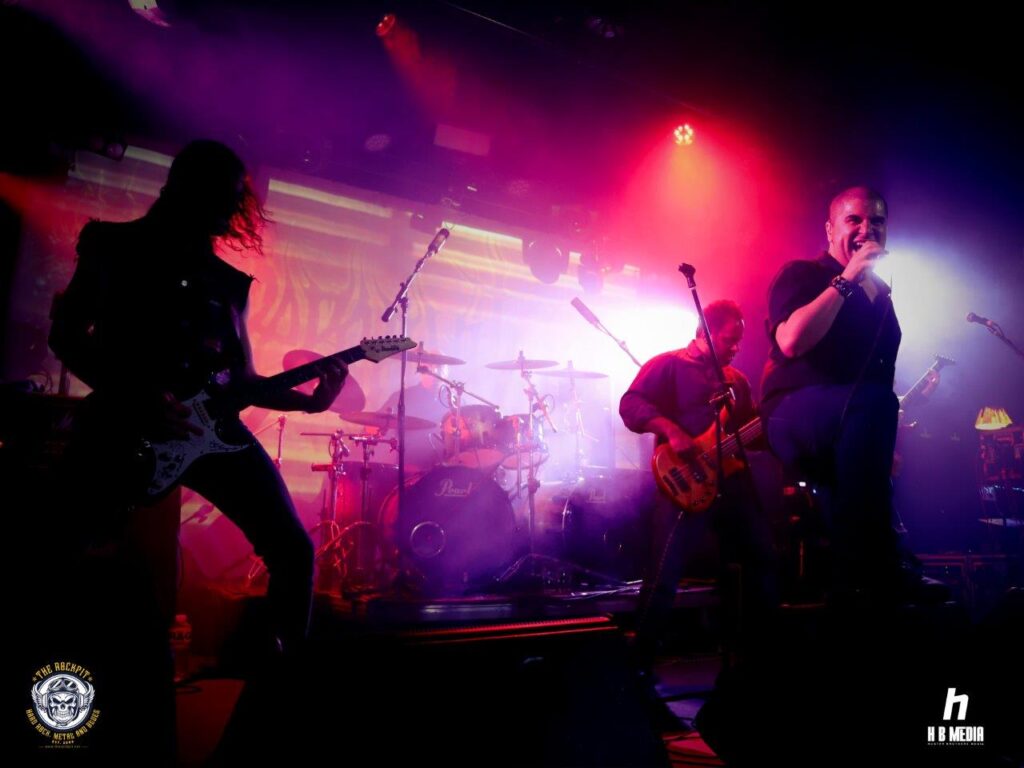 Who ordered desserts…….. I did, and I don't regret it for a second. Metal Hits Project was a star studded line up that served up cover after cover of good old fashion metal bangers. My feet were hurting but who sits down and listens to Metallica….. I don't.
All in all an amazing night, Stormrider Touring had hit gold again with a stellar line up that was cleverly crafted to maintain attention over 7 plus hours (not an easy task to do). I saw some band that were new to me and some favourites that I just cant get enough of. The gig kept me guessing but balanced effortlessly for the whole time. I loved the interactions with the bands and their fans and the unwavering devotion that metal music fans have for the talent that Perth has.
I rate this gig as one of the premier metal gigs that I have seen, exciting, refreshing, emotive and down right amazing. My chiropractor will be able to pay off his yacht this year and I don't care….. it was well worth the neck pain. If you see this gig come up again….. see it or you will regret it!
GALLERY by Hunter Brother Media
STREET CREATURE
ELECTRIC STATE
AMBERDOWN
CRYPT CRAWLER
DEPRAVITY
TEMPEST RISING
SILENT KNIGHT