Australia has a great rock scene at the moment from the older names that thread through the country on a regular basis to the young kids just starting out. There's so much to see and arguably in 2022 Melbourne has the cream of the crop. One of the bands that should be on your 'must see' list, if you love your 80's styled Hard Rock with a nice metallic edge is Wicked Smile. They're a band with the songs to back up the musicianship. After supporting Sweden's H.E.A.T. on their inaugural Australian Tour just last month the band head off to the U.K. in November for appearances at Hard Rock Hell and 12 further dates up and down the country. We caught up with Steve just before the show on the final date of the H.E.A.T. Tour to find out about the U.K. shows and plans for the band going forward.
Mark: So here were are in Adelaide, the last night of the H.E.A.T. Tour, it must have been great to get that last minute call up for Wicked Smile to step in for Crazy Lixx?
Steve: It certainly was and we're very, very happy that we got the opportunity to step up under the circumstances because we've got a lot happening in the next few months. We head off to the U.K. In November for a month long tour there and then we head back to join the Skid Row Nationwide Tour in Australia when we get back. And there will be a couple of pop-up shows in Melbourne in between too. And during all of that we will continue to work on new material.
Mark: Now that's great news about the new stuff, and great to see you getting overseas, I know you've built up a following through Radio Sun over in the UK and I think the fans are going to love what you're doing with Wicked Smile.
Steve: Yes certainly, and even before that people who were fans of Black Majesty would sometimes turn up at gigs with those T-Shirts on. It's great that fans of Melodic Rock and fans of the Heavier stuff are all enjoying what we're doing as Wicked Smile. I've always been that guy who loves many genres as long as it's a good song with a great Melody and a good singer. It's all about good songs.
Mark: One of the things that I think is great about you guys getting the guernsey for this tour with Crazy Lixx not appearing is that there's still a lot of people out there who don't know what great local music is under their right under noses, so if it takes a support slot to open those eyes that's a great thing for everyone. People I talk to before shows seem to have this mindset that local bands aren't as good as the International cohort and this is where you get to prove that we're just as good!
Steve: You're right I guess there's always been that 'tall poppy' syndrome, you're not allowed to be successful because you're from Australia – while in the rest of the world it doesn't work like that – The Germans have a great Metal scene, the Swedes have their Sleaze and over the last ten years great Melodic Rock. There are all these great scenes out there and the shame is that Australia has some of the best bands in the world! (laughs)
Mark: I think you're right we've got so many great Hard Rock bands at the moment it's just a shame that they're all in different States! It's the geography that works against us.
Steve: That's it I was talking to teh boys from H.E.A.T. and they can travel a couple of hours and be in a different country. It takes us 5 hours to get from East to West. So it is a little bit challenging but this tour for us is such a great opportunity – Wicked Smile is still a very new band – we only released our debut album back in November of last year. So with all of the Covid stuff  happening we all knew that we believed in the album and we wanted to get it out to as many people as possible so first on the agenda was the U.K. where we had a lot of interest and a lot of people  buying the CD. We got a distribution deal with Cargo music in the UK and I got to see the stats where the album was selling and it looked really promising so we had to set out. I know that we're a new band so it's going to take a bit of time but we're doing the HRH Fest in November and then We're doing Winterstorm as well which has its own little niche and between the two that gives us the opportunity to play some of our won shows. So for people who can't travel or can't get to the Festivals that gives them a chance to check us out live.
Mark: So when do you head off to the U.K.?
Steve: The first of November and then we play for a month and then head straight back to Australia.
Mark: And pretty much right into the Skid Row tour?
Steve: Yeah, I think we're back a week and then we're off doing the Skid Row tour. And for me personally when I was in High School in Year 7 that debut album changed my life! I always loved Heavy Rock and Metal but that one knocked me off my feet!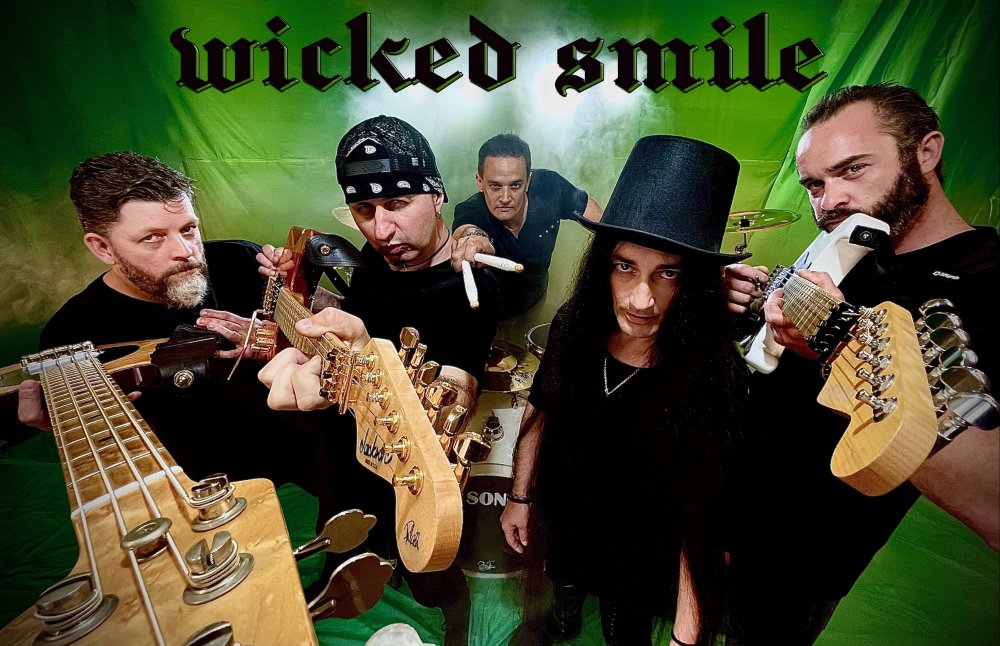 Mark: It's so funny how things come around Steve, I've been talking about bands like H.E.A.T. for a dozen years now  and to see Erik leave and get ill and then resurface in Skid Row is just a great news story then to see H.E.A.T. come over for this tour too – it's a dream come true for a lot of Hard Rock fans!
Steve: Absolutely!
Mark: Have the crowds been pretty good?
Steve: The crowds have been great, Melbourne last night was the biggest – that was packed and the show was great! The guys from H.E.A.T. are just all smiles and it's infectious – they're loving it and they're so happy to meet everyone. And that's the way it should be they're doing what they love and enjoying every minute. And it's really cool to be a part of that. There's no secret – it's all about great songs and great albums and they have that.  H.E.A.T. has always been at the top of the pile for me from the very first album.
Mark: From what I've seen of H.E.A.T. in Australia and Skid Row over in the U.S. we're in for some wonderful times!
Steve: Definitely. And for anyone who is wondering how they are with Kenny back in the band I've been blown away by how good he is! Not only has he got an awesome vocal range and is a great singer he's an amazing front man! 10 out of 10 from me!
Mark: So tonight we have three bands on the bill, including Cassidy Paris – what's it like to open up for your daughter?
Steve: It makes me very proud as Dad and seeing Cassidy develop over the years. She showed an interest in music at a very young age and I taught her how to play guitar from the age of 6 or 7 onwards and then she decided she wanted to start singing. So she started singing at the age of 9 and it's been amazing. And the cool thing is lots of kids love to play but Cassidy writes songs as well so she's been writing since the age of about ten or eleven. And she knows her stuff too, she'll do interviews and she'll talk about bands like 'Icon' because she grew up with it, 'White Sister' too, we exposed her to it. The other day she was wearing the Vince Neil 'Exposed' T-Shirt and people were coming up and saying "Oh Wow!" but it's not a fashion thing for her because at our home that is what we were playing. So she's been influenced by the music we love and she has her own favourites too which is cool. And she puts her own spin on things in a unique way.
Mark: You had me convinced at 'Icon' a band I got to see once many moons ago! And that for me is the great thing about Cassidy, and Wicked Smile and even H.E.A.T. this is the new generation of Rock and it's sounding very good indeed!
Steve: Definitely. And I think what I've seen particularly when we started, it was a pretty quick thing for people to latch on – obviously people knew Danny from his previous bands and me from mine – people have shown an interest and with every single they've wanted more, so we've developed it and I think in Melbourne by far we've played the most throughout Covid –  we played six pretty much sold out shows within a couple of months and people were just loving it. Word started getting out. And with Cassidy she's developed a great following around the world whether it be on Facebook or Instagram – people love what she's doing. Not just the kids but the older crowd too who love the spin she's putting on the 70's and 80's whether it be Pat Benatar, Joan Jett, Heart and all teh other greats. We need a Rock Chic back in the music industry – I'd love to see more women fronting and playing in bands!  I'm extremely proud.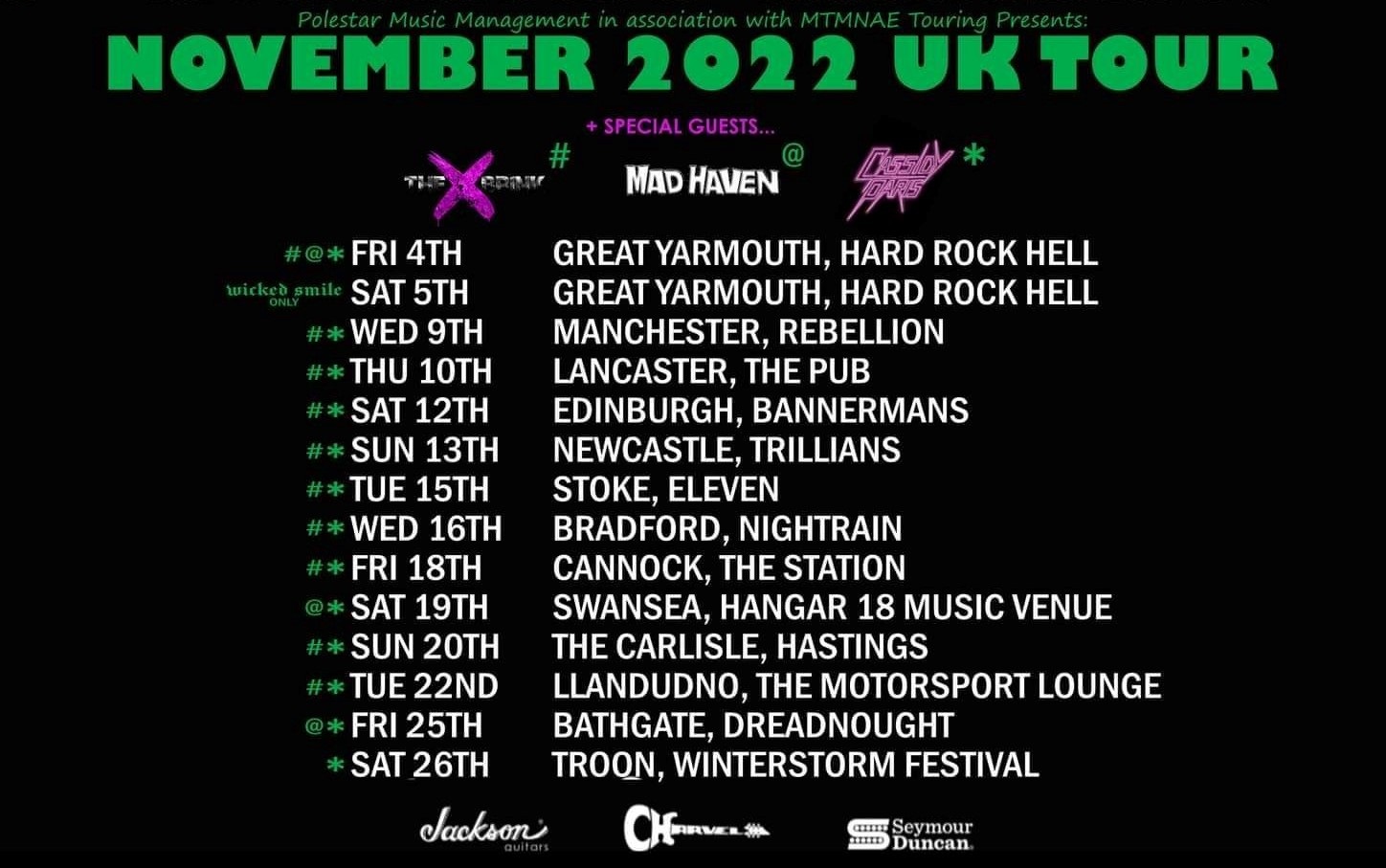 Mark: Well tonight is going to be great, it's the show I've been waiting to see since I spoke to Jona twelve years ago so all thanks to Silverback Touring for making it happen. I also get to see you on stage with Wicked Smile for teh first time and Cassidy Paris for the first time too, It doesn't get better than that.
Steve: They're amazing. I had the pleasure of opening up for them a while back at Melodic Rock Fest in the U.S. so I know some of the guys, and it was great to have that connection when we opened up the Australian Tour a couple of nights ago. It's all about friendships and good people and I can't speak highly enough about H.E.A.T. they are good people.
Mark: That's what I hear from everyone. It was great to talk to Kenny the other day, first time I'd spoken to him since he came back. A lovely guy.
Steve: And one of the fittest guys in the business he's got so much energy to burn!
Mark: So you mentioned earlier you were in the process of writing some new material?
Steve: We are, and Cassidy has a new single about to come out too which she worked on with Paul Laine called 'Danger.' Wicked Smile we just really started writing but we have two songs finished ad we're currently working on a third track. For us though it's all about quality control – when we made the first record it was all about making a great album, not about the time it would take to do that.  I wanted to make something that was like some of my favourite albums – 'Heaven and Hell' by Black sabbath and 'Screaming for Vengeance' by Judas Priest. Skid Row's first two – they all have great songs and a mixture of tempos. And I think our debut really captures the essence of what we do and Danny in particular shines on it – his vocals are amazing and when people see us, they see that we can do it live too!
Mark: The U.K. is in for a treat! Safe travels and enjoy the beer!
Steve: Thanks Mark.
GET YOUR TICKETS TO THE U.K. TOUR HERE: