"Formed more than three decades ago in 1989 only to fall into a slumbering hibernation lasting until last year, cult-followed Swedish hard rock outfit NESTOR decided to reunite, reinvent the iconography of rock and restore its glory in 2021 with their debut album – yes, their debut album – Kids in a ghost town. With friendship as the foundation of this unique, seemingly unbreakable bond, NESTOR are back for good and better than ever!" so says the press release and you know what – they're right. If you love the glossy side of 80's Rock with big production and a leaning towards AOR then you should be checking them out. We called Tobias to find out all about the new record and plans for the band's future.
Tobias: Hey, Mark.
Mark: Hey Tobias good to see you, thank you so much for taking teh time out of your day to talk to The Rockpit.
Tobias: No problem.
Mark: I love the album 'Kids in a Ghost Town'.
Tobias: Thank you very much.
Mark: Reading teh backstory, it's taken a while to get here
Tobias: (laughs) Yeah, it's taken quite some time. The thing is we started the band in 1989 when we were about 14 years old and like any young band we had the idea that we wanted to become Rock Stars and take on the world and all that stuff and then we kind of kept going till about 1986 and released a couple of EPs. But then life came in between and educations, and girlfriends and things like that, and it took us a while to get back together – till 2019.
Mark: I listed to the EPs – they are very different, far more progressive.
Tobias: Yeah.
Mark: But this is a complete album, great music, lovely production, very AOR and 80's and just to underline that half way through Sam Fox, that 80's icon drops in to make an appearance. She's still got a great voice hasn't she!?
Tobias: Yeah, she truly does, she is of course was an artist but maybe that is not what she was most famous for, byt when you compare her to other artists at the time in the same genre – like Sabrina, Samantha Fox always had a great touch and she sounded very 80's.
Mark: It's a great song too, 'Tomorrow' – one of my favorites, and she sings very well with you.
Tobias: Thank you.
Mark: I', taking it that the title 'Kids in a Ghost Town' refers to you and the band?
Tobias: Yeah it does, it's all about us growing up in a small town in Sweden, kind of a ghost town, and, you know, the whole thing about the last kind of summer where you had that possibility to do anything. The last summer when you were still a teenager without responsibilities, and that really is what the album is about. Just doing what you do as a teenager who loves Hard Rock in a small town and who wants to become a Rock Star.
Mark: It's great in that it brings back all those memories that I'm sure a lot of us shared growing up in small towns wherever you were in the world and dreaming of being in a famous hard rock band. I love the lyrics, they really capture that.
Tobias: Thank you.
Mark: Let's have a look at a few of the songs, most of the guys are saying 'On the Run' is their favourite track, but I have a few others that stand out for me.
Tobias: Thanks man.
Mark: I love the title track, but also 'These Days', 'Stone Cold Eyes' – there's some great moments. Do you have any favourites.
Tobias: It's hard, we've lived with them and played them a lot, done a lot of touring so it's hard to pick a favourite, but honestly 'Stone Cold Eyes' like you is one of my favourites and great to play live. But also 'Kids in a Ghost Town' too has a kind of melancholy to it that I kind of like too. Those two tracks and 'Signed in Blood' for me, but probably if I had to choose 'Stone Cold Eyes' because of the good vibe to it and how it's received live.
Mark: Back in the 80's of course there were only so many Swedish Hard Rock bands that made their mark on the rest of the world, but these days Sweden is leading the way with the likes of Eclipse, H.E.A.T. and Hardcore Superstar – it's a wonderful scene. Who was the instigator in getting the band back together and were you all in touch for all those years?
Tobias: We've been in touch throughout the years and me and the guitar player we've had different kinds of bands throughout the years. But it was my idea, I was sitting at home playing the piano during the pandemic when we were in confinement. And for some reason I ended up playing songs from the 80's which I sometimes do, but all the time it was like that, I think when the world is in a shaky place you look for things that feel safe and how it used to be. And I think that might have been why I started playing 80's songs and 80's harmonies. And then I thought wouldn't that be cool just as a story, going back to get the band together. We were just kids last time and we could do that and get to know each other again, because all of us have been in the music scene in one way or another. So I just called the up and said "What do you think about getting in a time machine and going back to 1989 and make that album that we didn't have the skills or possibilities to make then? The whole album should be about us growing up in a small time and dreaming big."
Mark: I guess we have the pandemic to thank for something then?
Tobias: (laughs) Yeah in that case we do. And it was such a pleasure to do that and to try and mentally visualize what it was like growing up in a small town, loving hard rock and having big ambitions in a social climate where you should really get your education going and you should do this and should do that, rather than have long hair and play hard rock!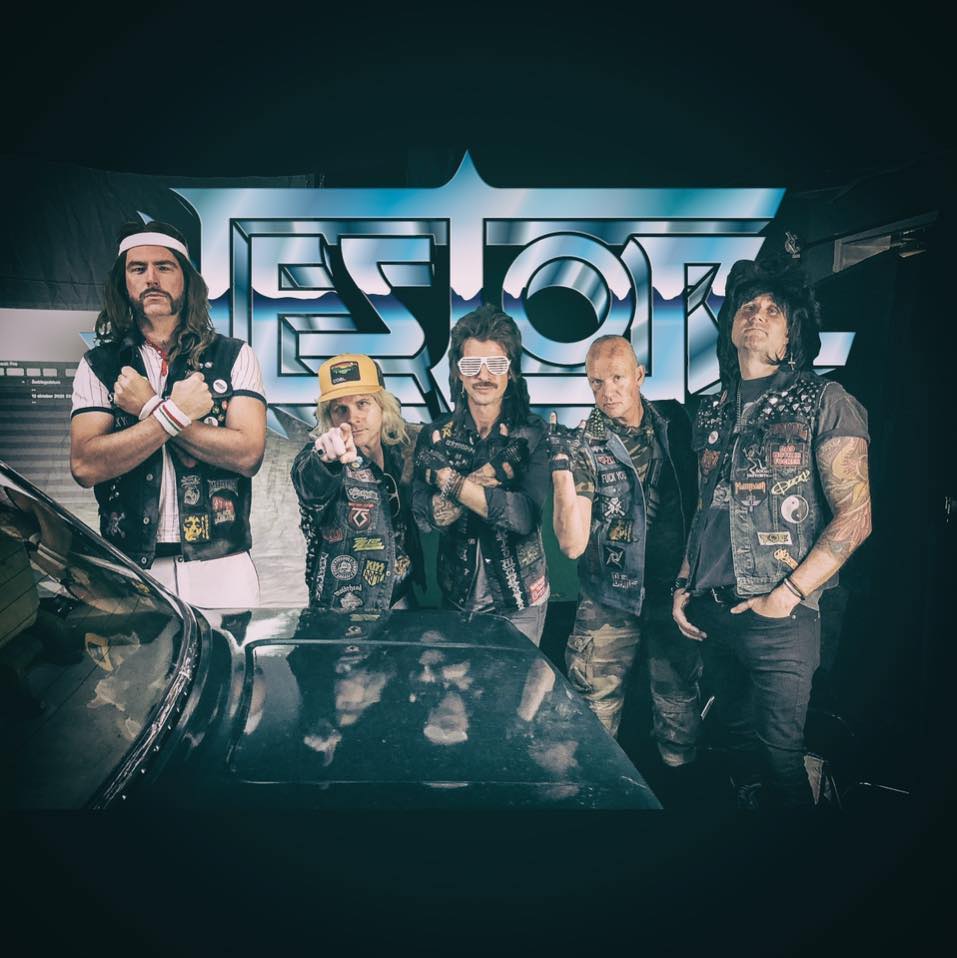 Mark: So who are those bands that you were listening to back in the day that inspired this rebirth?
Tobias: Back in the day there were tons of them, but for this album the biggest inspiration for me has always been Kiss, from 'Lick It Up' – not the make-up years, but 'Lick It Up', 'Animalize', 'Asylum', 'Crazy Nights', all great albums, and Bon Jovi of course 'Slippery When Wet' and 'New Jersey' even 'Keep The Faith' is a great inspiration. Then there's Europe, all of their albums had a huge impact on me, and Van Halen of course, especially '5150' which is one of my favourite albums of all time. Giant 'Last of the Runaways' is always a big inspiration.
Mark: Two wonderful albums there, I love Giant and '5150' has always been my favourite, but everyone tends to have their own favourites from the 'Sammy' era.
Tobias: I just listened to it again the other day. There's not a bad song on that album and the way Sammy Hagar sings on that album is just amazing! That's a huge reference. Motley Crue's 'Theatre of Pain' album was also a big inspiration for me. All of these bands basically from the 80's that had some magic, Whitesnake of course, Dio of course. But when it comes to Nestor I think we wanted to be somewhere in-between. Maybe Survivor and Journey vs. Bon Jovi and Kiss kind of thing.
Mark: I definitely get that AOR vibe especially on songs like 'These Days'. The album came out last year and you're re-releasing it now I guess on a bigger label with three bonus tracks on there, I love 'Signed in Blood' and 'Losing Game' is pretty good too but I almost wanted to throw the player out of the window when I heard the third bonus track Whitney Houston.
Tobias: (laughs) You didn't like it?
Mark: Whitney just brings back some awful memories of over-sung manufactured 80's pop for me, which is just what I was fighting against in listening to Rock music. I mean I know she never wrote a thing it was all label created, but who is the Whitney fan?
Tobias: I think the most important thing for us was that if you're doing a cover as a Rock band from the 80's it would be so easy to do something like Cutting Crew, but I wanted to do something that sets the tone in a way, no one would expect us to do a Whitney cover. To me it's just a great song and a song that you could put a little bit of a '1984' or 'Crazy Nights' vibe with the keys and everything and you'd have a great song. So that was the reason I thought it was important that we didn't do anything that people might be expecting.
Mark: That's a good answer, I can let you get away with that as long as I can warn people about it in the review!
Tobias: (Laughs)
12.03 of 18.16
Mark: Now let's get back to rocking! If you could have been a 'Fly on the wall' for the creation of any great album in the history of Rock and Roll what would you love to have seen being made? So that you could see the magic happen?
Tobias: Wow, what should I say? I guess I have a boring answer and one that is a bit more fun. The boring answer is that I would have loved to have been a 'Fly on the wall' when Queen did 'A Night at the Opera' of course because it is such a great album, I guess you have had that many times?
Mark: You'd certainly be in good company with that.
Tobias: I guess that if I could give anther answer it would be the 'Lick It Up' album with Vinnie Vincent. 'A Million to One' is by far the best Kiss song ever in my opinion. That would have been nice because of the fact that as I'm a big Kiss fan, it was all change They just fired Peter Criss a couple of years earlier, and Ace Frehley was just out the door. Vinnie Vicent this little guy with a big ego is in, and Paul and Gene are trying to figure out how they can make this band great again without the make-up and all that. So I have to say the 'Lick It Up' album. Or… 'Operation Mindcrime' by Queensryche.
Mark: Two fantastic albums in my opinion. I love the 'Lick It Up' era and that one always intrigued me as Vinnie didn't last too long and I always wonder what he would have been like to work with. It's a shame that there have been so much talk over the years about him doing new stuff and nothing much seems to happen.
Tobias: His story is amazing, there is actually a Swedish documentary that is called 'The Guitarist that disappeared' about Kiss and Vinnie Vincent, there was a lot of crazy stuff. But what a brilliant song-writer.
Mark: Absolutely and the Invasion albums are both classics too.
Tobias: Yeah.
Mark: And as it's our first time talking to you Tobias we have to end with this one question. What is the meaning of life?
Tobias: Oh, the meaning of life, that's a tough one! (laughs) Do you know? I guess in this context the meaning of life must be to have fun or at least try to have fun. That must be the meaning of life.
Mark: You've made a lot of people happy with this album and it sounds like you had fun making it, hopefully we won't have to wait as long for the next from Nestor?
Tobias: I've just started writing the new album, it's planned for release maybe late next year. The ambition to make people happy and to relive these years is a good ambition to have when you write new songs. To find those moments and those movies and try to make songs about it, I think that is great and though it's not the meaning of life it's a great thing to do.
Mark: Music makes a lot of people's lives easier so it's great to have an album like this especially during the pandemic. Thank you so much for your time mate, I'm going to give it another spin right now!
Tobias: Thank you Mark, and donlt forget the Whitney Houston song! (laughs)
Mark: (laughs) Take care and thank you so much.
Tobias: Cheers Mark.
Watch the new music video for "It Ain't Me"
https://youtu.be/qTnvW59Sr7Y
Pre-Order Kids in a ghost town
https://lnk.to/KidsInAGhostTown/napalmrecords