Hardcore Superstar are one of the finest live bands you will ever see, and i If you want to know what the spirit of Rock and Roll looks like then look no further than front man Jocke Berg. Mark caught up with Jocke on the eve of the Australian Tour, delayed by covid it may have been, but now it's finally time to rock!  As it's an Anniversary year we look back on 25 years of the band and where it all began.
Mark: Good morning!
Jocke: Good evening! (laughs)
Mark: (laughs) How are you Sir?
Jocke: I'm fine are you?
Mark: I'm great thanks Jocke, this is a bit of an anniversary for us our 12th interview over the years!
Jocke: It's been good Mark.
Mark: And what better reason to speak than the fact that you're coming down to Australia to see us again.
Jocke: Yeah it's gonna be awesome.
Mark: One of the best live bands in the world in my opinion, it must be great to be back on the road again, how have the Festivals treated you this summer!
Jocke: Really good, really good, One of our highlights was playing Sweden Rock we were up just before Guns 'n' Roses, it was round 7 O'clock in the evening and there were around 40, 42,000 people in the audience…. Awesome!
Mark: That's crazy. Have you played the same bill as Gunners before? Not only that opened for them!
Jocke: No never, that was awesome.
Mark: They're over here when you guys are, it will be so cool for Rock fans!
Jocke: Yeah! (laughs)
Mark: It's a huge year for Hardcore Superstar this year – 25 years of the band!
Jocke: (laughs) That's a long time!
Mark: It certainly is these days.
Jocke: And it's funny because I'm still 25 years old myself!
Mark: (laughs) So are your audience! We're all 25 as well!
Jocke: That's right (points to his head) in here!
Mark: Too right my friend and we always will be! It's music that makes you young and your energy levels never seem to go down, how do you keep it going after all these years?
Jocke: I don't know, I guess that I can thank myself that I am working out a lot, you know I run 30 kms a week and do a lot of workouts and stuff. Actually I did break my foot this Saturday – look at this! (Jocke shows me the bandage on the foot)
Mark: Oh no! That's crazy!
Jocke: It's blue!
Mark: Was that an onstage accident?
Jocke: No I was out running and I twisted my ankle and foot like this (Jocke makes the tearing sound and twists his foot).
Mark: Oh dear!
Jocke: But it will be all good for Australia.
Mark: I remember that time Axl Rose was onstage in a cast, so it's great that you'll still be right to do some of your signature moves!
Jocke: Of course! It's not broken just a bad sprain.
Mark: That always happens to us 25 year-olds!
Jocke: (laughs)
Mark: 'Abrakadabra' is one of my favourite albums of the year, in what has been a very good year, and there's some great songs that I think would go down really well live. Are you managing to get a few new ones in the set?
Jocke: Yeah, we're playing four or five from the album of about 16 or 17 songs in the set. So it's gonna be awesome to play them live for you guys.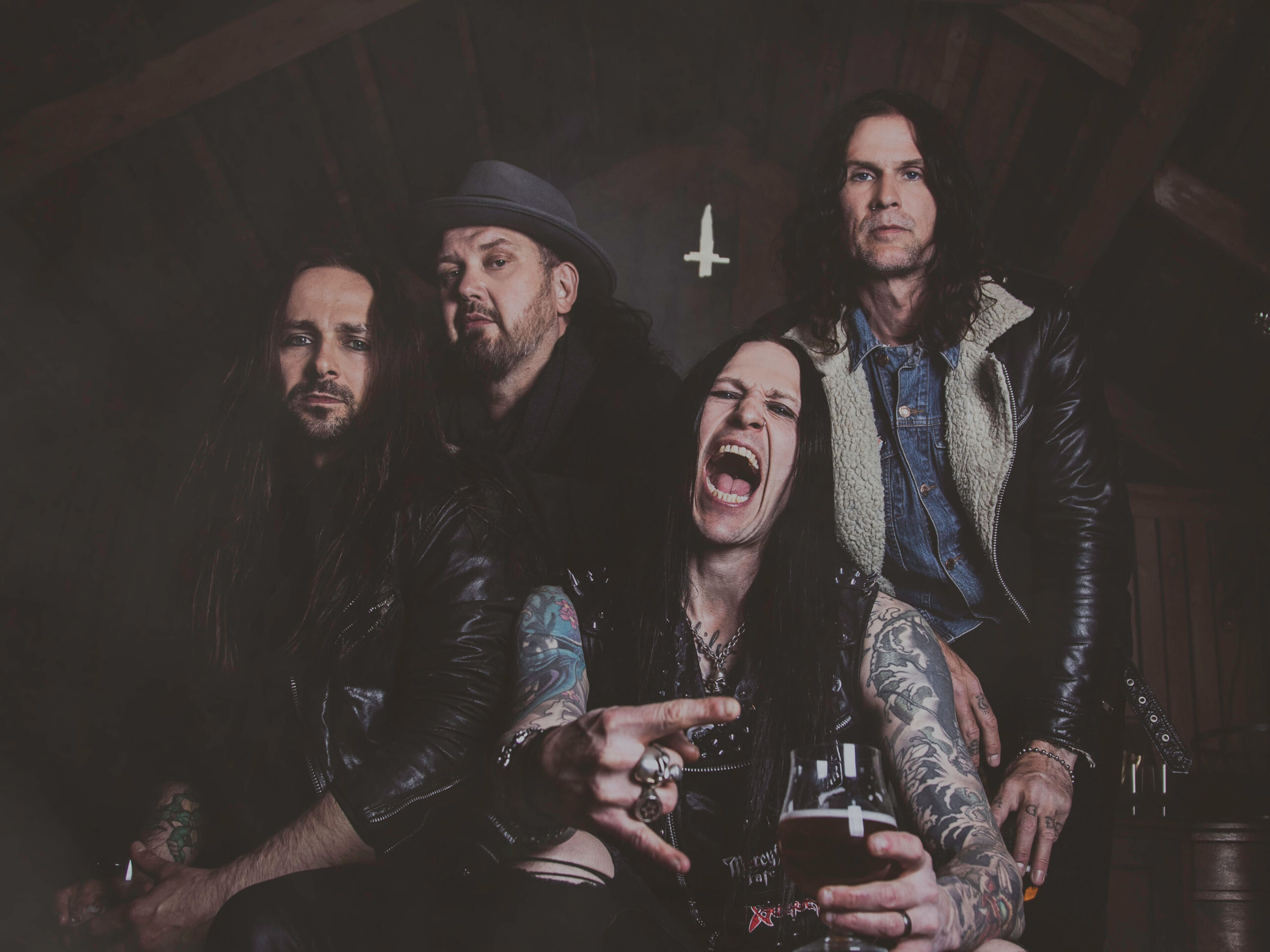 Mark: Twelve albums in and you are sounding better than ever. Because we do have that anniversary though take us all the way back to the very beginnings of the band 25 years ago! We've never really spoken much in the past about those early days.
Jocke: I can tell you, we're friends! (laughs)
Mark: (laughs)
Jocke: I can tell it because I was there! (laughs) It started in '97 we played in this Rock and Roll Grunge orientated band because at that time Alice in Chains were big and everyone loved them. I still love them. But I grew up with bands like Motley Crue and L.A. Guns and also Suicidal Tendencies and Anthrax and those kind of bands. So one day I said "I'm leaving the band and gonna start a new band", so me and Martin (Sandvik – bass) did and that was the beginning of Hardcore Superstar. Then we asked Silver to join us and he did, and back then we had a drummer called Mika (Vainio) who left the band only a year after we released the first album 'It's Only Rock 'n' Roll' so I called up Adde (Andreasson) who was  at MIT in L.A. studying drums. So he came home and joined the band and then we got signed with Music For Nations and we did three albums with that label. It was very educating to be on that label because back then Music For Nations were a big Rock label, but they wanted to interfere with our sound and our music and you can't do that with Hardcore Superstar. But we were stupid back the and listened to them because they were a big label. I remember once they said to us "Can't you sound a little more like The Hives?"
Mark: (laughs)
Jocke: And I was like "What?" I mean I love The Hives but Hardcore Superstar is not The Hives! I mean we have the same letter in the beginning but I can't sing like Howlin' Pelle , that won't work out. But we did three albums that didn't sound alike at all so we were kind of fed up and so we took a break for almost one year: we almost broke up actually. And then Adde called me up one day and said "Should we do one more album? We should do an album that we all like to play and we dig" So I thought "Let's do that".  So we recorded 'Wild Boys' a demo in our studio  and it turned out so great that the songs just came to us.  I used to say that our self-titled album is 'year zero' for Hardcore Superstar when it all started, so actually it's not 25 years, you know what I mean? And the rest is history, I think we managed to put out albums that are pretty good after that.
Mark: I know exactly what you mean, there were things I liked about those first few albums as well but I guess that is a great bit of advice to new bands too – be true to yourselves and don't listen to what people are trying to push on you. Better to win on your own terms than fail doing what your heart isn't into.
Jocke: Yeah, exactly.
Mark: There was a song I think on the third record called 'They're not even the new Bang Tango'
Jocke: Yeah (laughs)
Mark: That one always intrigued me especially being friends with Mark from the original line up of Bang Tango.
Jocke: Yeah, that song title came from when we got a really, really bad review. I can't remember if it was an album review or a live review but he ended with 'They're not even the new Bang Tango.' So we said that "We have to have that as a song title."
Mark: I love Bang Tango they're a great band.
Jocke: Yeah! They are.
Mark: There's a vinyl version of one of my favourite albums out at the minute the 'Black' album – are you a big vinyl fan?
Jocke: Yeah, I am, actually I had over 2000 vinyls but they got stolen. I had them in a cellar when I lived in an apartment  as they wouldn't fit in the apartment and one day when I came home from the pub I went down to grab a record to listen to and have a beer, and I went down and they'd broken in – every record was gone.
Mark: That must have been heartbreaking!  What do you most miss from the collection?
Jocke: I had 119 different albums with Iron Maiden, there were a lot of different pressings that were worth a lot of money. That was one of the few times I really cried! (laughs)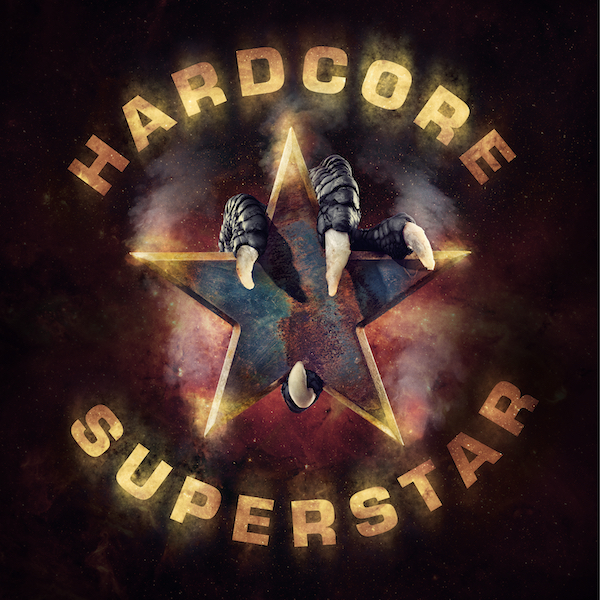 Mark: I feel your pain! Growing up were you always into Rock and Roll? Has it always been the main passion in your life?
Jocke: I has, I remember when I was eight years old my friends big brother bought Number of the Beast by Iron Maiden – when I heard that song I was hooked from the first riff. So I guess you could say I've always been into guitar orientated music.
Mark: I've seen a fair few bands over the years, just hit  my 4000th the other day but over that time there are few bands that I've seen who are better on stage than Hardcore Superstar. When you guys hit the stage you're like a Rock and Roll machine – where does the chemistry and the energy come from?
Jocke: I don't know actually I always knew that Hardcore Superstar is all about energy and having a good time. I get tired like anyone else, and I can be tired before I go onstage and think, man I'm so tired I'm not sure I can do this. But immediately when the intro is on  something grabs you and you just get so much energy. I've never known what it is, but it's there every time.
Mark: It's the spirit of Rock and Roll Jocke!
Jocke: (laughs) That might be!
Mark: You're with us in a few days. What are your plans for the rest of the year and 2023? Are you thinking about starting writing for the next album or still playing catch up with rescheduling live shows after Covid?
Jocke: No we have 5 new songs already for the next record, and tour wise we're 4 days after we leave Australia playing 2 Festivals in Sweden which I think are the last shows of the year.
Mark: I promised to ask for my American friends when the next time you'll be visiting them is? Anything on the cards?
Jocke: There's nothing planned just now, but I know we are working on it.
Mark: I always let people know in advance who I'm talking to next so I've a few sent in by readers for you now.
Jocke: Sounds good.
Mark: The first is, and I don't know where people come up with these questions, it's like reading a magazine from the 1970's or something!
Jocke: (laughs)
Mark: But here we go "If you could guest on one TV Show what would you love to be on?"
Jocke: It's not around anymore but it would be awesome to guest on the David Letterman show.
Mark: Now that would be cool playing and being interviewed. I miss that show.
Jocke: Me too.
Mark: If you could sing a rock and roll duet with anyone, who would you like to sing with?
Jocke: It would be awesome to sing together with Steven Tyler.
Mark: You already did, but now you have my ultimate respect.
Jocke: We have similar voices, I think.
Mark: Absolutely, I've always heard a bit of Tyler in your voice. We're they a big influence Aerosmith?
Jocke: Yeah, of course – the 70's Aerosmith – 'Toys in the Attic' maybe my favourite but they're all good.
Mark: And our penultimate readers question is "Is there a song you heard that hit you instantly and as remined with you ever since?"
Jocke: Yeah, and talking of Aerosmith 'Dude Looks Like a Lady' that song always comes back to me all the time because as a singer it's awesome to sing, it has the melodies, the attitude and everything.
Mark: I'd love to see you play that one day!
Jocke: I will tell the guys! We'll do that as a cover! (laughs)
Mark: And the final question, one I never ask unless I'm getting desperate is…
Jocke: (laughs)
Mark: Do you have a favourite thing about Australia?
Jocke: Yeah, I love the people because they're so relaxed. I love my country but if I had to move anywhere else I think it would be Australia.
Mark: What a great answer. It's always great to speak to you mate and fantastic to hear there's half a new album written already. Hopefully we won't have to wait too long for that next record.
Jocke: No, not too long! Nice talking to you Mark!
Mark: See you next week and hope the ankle is better by then.
Jocke: Me too! (laughs) Take care ! Bye!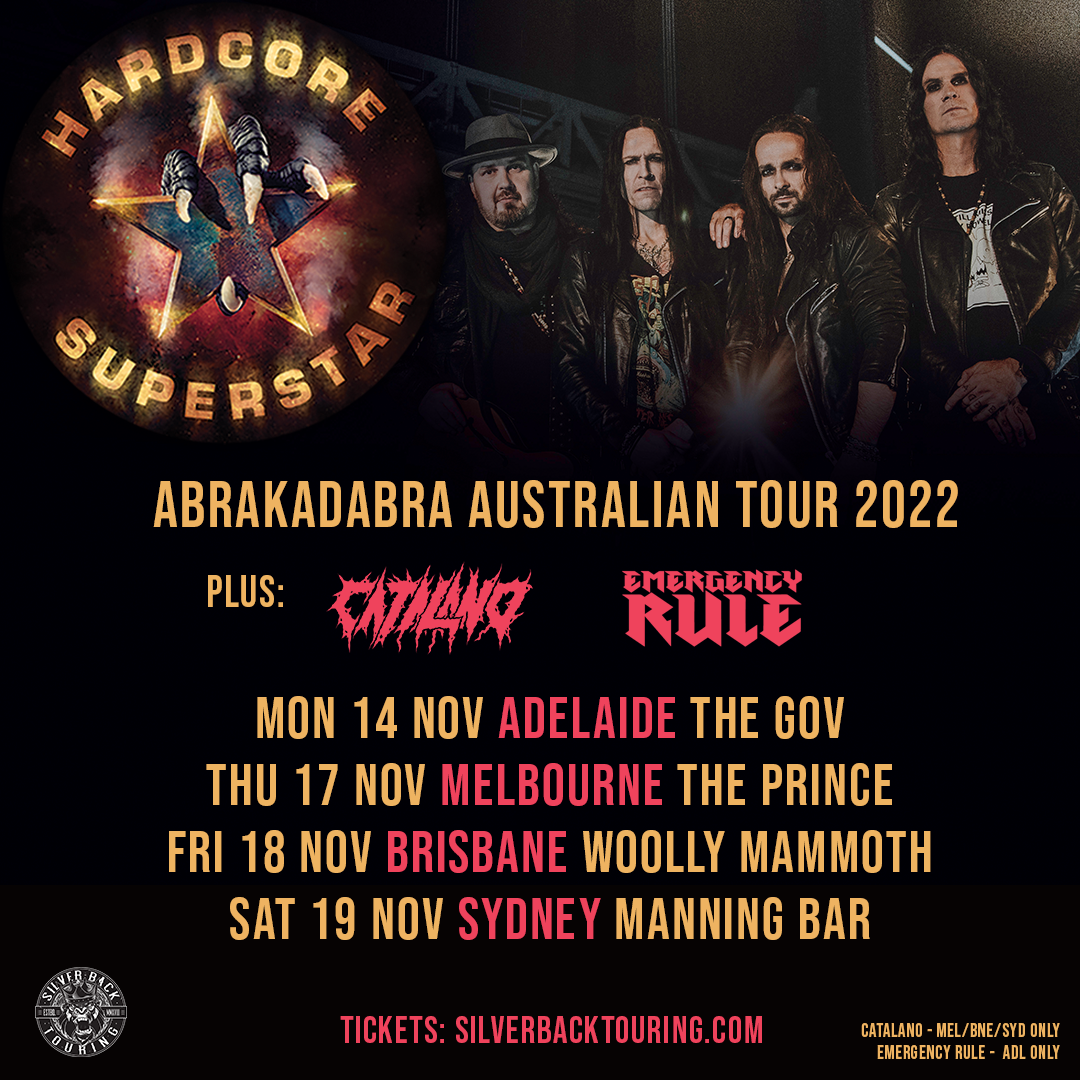 CLICK HERE TO GET YOR TICKETS NOW
SILVERBACKTOURING.COM.AU