Enuff Z'Nuff were one of the very first bands back to touring after the pandemic and they and front man Chip Z'Nuff are proving that the last twelve months have been a purple patch for new material. With a solo album, a covers record, a rarities compilation and now a second new album of originals in the last two years there's no stopping Chip Z'Nuff. It's always great to catch up with Chip and we are the first to congratulate him on his return to Australia for Glam Fest Australia 2023!
Chip: Hey Mark, how are you buddy?
Mark: Not too bad Chip, I know you're keeping busy out on Tour so just checking in, as we always do to talk about the new album.
Chip: Thanks for taking time out of your busy schedule. We're just getting ready to get back out down there!
Mark: I know it's going to be great –  our first 'Glam Fest' Downunder in January next year and it was great to hear that you will be part of it. You always told me you'd be back soon!
Chip: Yeah, it's going to be great buddy!
Mark: You've put out some great albums over the last few years, since I guess the comeback with 2016's 'Clowns Lounge' but this might just been the best yet.
Chip: Thanks I appreciate that.
Mark: You're incredibly prolific at the moment, there's been so much music coming out of the Enuff Z'Nuff camp recently. Do you feel particularly inspired at the moment?
Chip: Yeah, I would say so. There's certainly a plethora of fodder out there to wrote about. Our country is facing a lot of challenges. But a lot of these records that most of the groups put out there ae basically autobiographical – you write about what you know. And that's basically what I did – on the Beatles record those songs were already written so it was a reinterpretation of those Beatles songs on the Hard Rock Nite record on Frontiers. But the solo record  'Perfectly Imperfect' and the newest release 'Finer Than Sin' pretty much showcase how I see everything is and some of the experiences I went through. We went into the studio and we pretty much bashed these songs out without a lot of remorse. When I look at the template of how we put the record together it was basically 'let's not go crazy with overdubs' – we just wanted to make a solid rock record with the songs I came up with, and I think that we did. It's a nice combination with all the gang together, we really took the bull by the horns with this one.
Mark: How did you choose the final tracks for the album? I know you told me earlier in the year that you had a good few ideas for this record.
Chip: I thought I had some good ideas, I probably recorded a good 15 to 20 songs and I listened to them all and thought it was in our best interests to know it down to the best ten. I didn't want to put too uh on the record. Nowadays bands are, and I did this enough in Enuff Z'Nuff in the early years,  we'd put 14 or 15 songs on a record and it was too much information, especially in this day and age when there's too much (product) and not enough demand. There's so many people out there wanting to put records out and so many people who have their own recording studio and their own facilities. So I really wanted to do something special and didn't want to take up too much time out of your day. So if I can pull 45 minutes of your time for you to listen to these songs I believe that perhaps I can accomplish what I was looking for, which is to take you away from all of the doldrums of what is happening in this world.
Mark: Well you did that for me. It's a great title too. I love 'Finer than Sin'.
Chip: You know in the old days Rock music was considered a sin, it was a Taboo in certain different circles, that's why it appealed to the public – they were told it wasn't right and they went and made their own decision. But the title, I lived in a neighborhood on the South side of Chicago and I was at this Blues Club years and years ago and I heard this cat talking about the music and he said it was 'Finer than Sin' and I thought – what a catchy titbit I can use, maybe I can write a song with that title? And when I was making the record it just jumped into my head. It just fits the mould. It's not religious at all, even though 'sin' is in that vocabulary. It's just a nice tag for a piece of work I hope you will enjoy.  By the way it's also our 20th record, I've been reading in press releases this week that it's our 17th, but it's really our 0th. We put out a box set of 4 records earlier in the year – four full-length records consisting of demos and rarities – so counting that this will be our 21st studi0 release which is quite astonishing in this day and age where most bands these days probably won't get a chance to make that many records. But there's a lot of good ones out there that I love like Dirty Honey, Greta Van Fleet, The Rivals Sons and The Struts, who are great.
Mark: It is incredible and to think that the 40th Anniversary is only a couple of years off too.
Chip: It is. It's incredible that we're still here, it's a blessing from above that's for sure. I put teh band together back in late '83 and back then I didn't envisage it ending ever! But of course there is an ending to everything unless you're a band like Pink Floyd or ABBA where your music will last forever even if you're not going, your music never stops. That says quite a lot about your art. But for us to be still out there touring around the country and making records, it's magnificent that i still get the chance to do this for a living. It's not like it was in the old days when Enuff Z'Nuff would get a tour bus and we'd follow around Def Leppard or Cheap Trick or Badlands and play arenas and huge shows. Nowadays of course you pick and choose – you get some of those Festivals and the fans love it, and it's nice to be out there and have people enjoy your music, whether its recognizing something from MTV, or a Beatles cover or even digging something from the new record, and getting those newer songs into the set is one of the biggest challenges we have right now.
Mark: There are certainly some good contenders, one that takes me right back to albums like 'Strength' and I've been playing it a lot recently is 'Hurricane'.
Chip: I appreciate that Mark. I don't like to tell the audience what the songs are about, I like to leave that to the listener, but when you listen to that with all the strings and all I've done with that arrangement there are a few things that do look back at those days in the early 90's when we were making records that had a little bit of a budget. ATCO/Atlantic Records was giving us just enough so that we could go into a big studio where we could have harmoniums, a mellotron, and a lot of other instruments that are hard to find right now, I mean now you can always go into the 'box' and pull out instrumentation, but I wanted everything to be 'real' on this record  like most albums we did as Enuff Z'Nuff. So it's real players, real instrumentation, it's no ProTools, there's no autotune on vocals or anything, and I'm excited about that – to be able to make records without all that extra fodder  it's pretty exciting to me. There's nothing wrong that bands do that like Southern Twister, Kanye West and some of the HipHop Records I did in Chicago, those cats would use the autotune and it worked well for that kind of music, I'm certainly not questioning it, but for  a Rock and Roll band like The Rolling Stones or Cheap rick (laughs) – they're not using autotune! Those guys go in there and they just play it! Everything stats with the drums and then you take it from there.  Essentially 'Finer Than Sin' is a live record in the studio with very minimal overdubs and I'm really proud of all the contributions from the guys.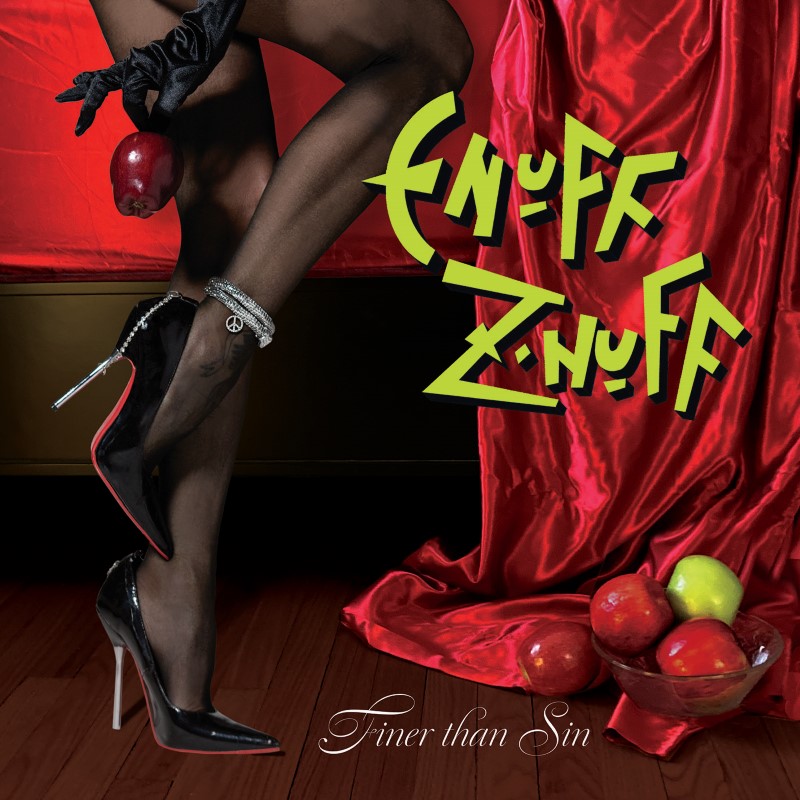 Mark: There's definitely a wonderful mix of stuff on there and a great organic sound. You're hitting teh road hard this year playing live more than ever. You've just come off a tour with The Dead Daisies where you were on fire and net week you start with Skid Row in the UK – a great pairing.
Chip: Yeah The Dead Daisies guys were great, hanging out with Glenn Hughes is always wonderful. I was a big Trapeze fan when I was a kid and then or course I loved everything he did in Deep Purple especially 'Stormbringer' – a fabulous record. I know they had a hard time making that record talking to Glenn telling me stories about Ritchie Blackmore calling it 'shoeshine music' as it was very R'n'B-esque, but for me that was a great side to Deep Purple that we didn't hear before and I thought he took that band in another direction that was fantastic, and Coverdale's pipes were wonderful too. And I loved 'Come Taste the Band' I was a big Tommy Bolin fan too, 'Standing in the Rain' and 'Teaser' it was a great song – I always wanted to cover those. But to sit in a room with Glenn Hughes and for him to tell you he loves your bass playing and singing (laughs) that was a nice boost to me ego! And it was hugs every day on the tour too, there was nothing but love, as a matter of fact I used Glenn's amp on the whole your as we didn't even have a tour bus, we were travelling around in a little Oscar Meyer Weiner Wagon!
Mark: (laughs) I can actually imagine that!
Chip: (laughs) and Doug Aldrich and David Lowy there were great. It was good tour for us even though financially it didn't hit a home run for us, we reached a lot of fans that normally we might not. So that was good and then on that tour I got the call from Artist's Worldwide to say that Skid Row had asked us if they wanted us to support the in the UK run. And it was so ironic because we started our career with Skid Row. Doc McGee managed Enuff Z'Nuff and his brother Scott McGee managed Skid Row, he used to tell me that he and Sebastian used to get in fights all the time because he couldn't handle his disposition which was questionable on those shows. So they'd buttheads. But they went through all the same trials and tribulations that we did, they have this fabulous new singer from Sweden who was on American Idol (Swedish Idol) I think it's going to be a great challenge for us and a great package for the fans. It started for us back in '87 – '88 with Skid Row and here we are now all these years later and we're sharing teh stage with them again playing the O2 Academy and places like that. It's a great opportunity for Enuff Z'Nuff and I really appreciate the invitation from Snake and the boys to come on the tour. I think they're going to be presently surprised when they see the band. We're on the Glam Slam Metal Jam tour at the moment with Midnight Devils and Pretty Boy Floyd and it's a very different tour – tons of lipstick and people dressed up, celebrating the 80's – it's a wonderful time to get out and play especially with what's happening in the country. I think the Skid Row Tour will be a nice feather in our caps.
Mark: Absolutely and then I see you have a few of your own shows in the UK as well. It's been almost 30 years since I first saw you on the 'Animals With Human Intelligence' Tour which turns 30 next year
Chip: Yeah, the record should have been called 'Humans With Animal's Intelligence' we never hit home runs with that one. We always had trouble coming up with titles for records but I like to think we hit home runs when it came to songs. Donnie and I were writing machines back then – we were coming up with some really profound stuff. All of those early records were double or triple records but the labels wouldn't let us put all of those songs on so we had to hold them back. And I think that taking that approach now is right after all these years when I put a record out in the old days it was ten songs and I think that's enough information these days to get a feel for what the band's all about. It's almost in some ways an autobiographical record too, but then I think most of our albums are.
Mark: I fell the lyrics are particularly interesting 'Steal the Light' specifically seemed to be about someone in particular.
Chip: Well I worked with one of the greatest song-writers of my generation for the longest time with Donnie.   He's a wonderful singer songwriter no doubt about that, and when you're with someone like that every single day coming up with songs it's going to give you a lot of ideas.  There's a lot of subject matter in every one of those songs, and you know musically it's a mouthful of metaphors, the pearls of what happens in your life what with substance abuse and promiscuity to be perfectly honest with you. But at the end of the day some people don't even listen to the words they just hear the music and they hear the vibe and the melody lines and whatever catches their attention trips my trigger.
Mark: One of the songs that I think is going to get a lot of attention especially when you go over to the UK is the cover song that's on there: 'God Save the Queen' (Sex Pistols, not the national anthem).
Chip: Yeah I guess we put it out just at the right time. I remember hearing a version of that by Motorhead, I was friends with Lemmy and Phil and the cats and I thought maybe we shouldn't do it as it's been done quite a few times. But we just went in the studio and bashed that one out live with the whole band and it felt really right. I've always loved England, they're our allies as far as I'm concerned, and my father served in the military over there when I was born.  It's a great track, but then to lose the Queen, that was tough for a lot of people over there because she was such an extraordinary woman, I think it was just good timing to put that one out right now. I've been a Sex Pistols fan for years, in my early days I was in a band called 'Degeneration' – we never put a record out, although we have a record we never released it, although I believe one day it will see the light of day. The Sex Pistols was one of the big influences of ours so it's nice to finally be able to close that chapter and put 'God Save the Queen' on one of my records.
Mark: It's a great cover, I'm just not sure how it would go down in the UK at the moment – if people would take it as a compliment or start throwing things at you! (laughs)
Chip: I'll make sure I don't put that one in the set Mark! Thanks for the warning! (laughs)
Mark: (laughs)
Chip: (laughs) I'll focus on the earlier stuff on the Skid Row tour where we'll play a lot of the first and the second album 'Strength' and I'll throw in 'Metalheart' from 'Diamond Boy' and maybe a few of The Beatles songs from 'Hard Rock Nite' because I know they'll like the way we do 'em, very aggressive, maybe 'Elanor Rigby' and 'Magical Mystery Tour', maybe even 'Jet' the Paul and Linda McCartney and Wings song, what do you think? Sound OK?
Mark: That will go down great I'm sure. One of the things I most enjoyed about teh new record was the version of 'Temporarily Disconnected' from the Rarities box set you did on there.
Chip: Every single record that I've put out I always want to do something with Donie, and maybe there's a soundtrack or some director out there that will put it in a movie and help us, and get some licensing money 0 that would be nice.
Mark: Indeed it would.
Chip: But I thought it was a great song, I know you liked it, and it fits along nicely with the rest of the songs on the record – it seemed to work nicely and it pays respect to my Bro' who was in the band for a long time, and I think the fans will like it as well. I certainly don't have his pipes, but it's the same timbre and there are similarities there, and it's a strong rock track.
Mark: The tracklist is perfect and it's great for vinyl. I know you are constantly writing what was the first song you wrote for the record?
Chip: Well like most of the artists that I admire and love, the Elvis Costello's and Cheap Tricks of this world, I'm writing every day and when you come up with ideas you do run with them and sometimes you can get a trifecta and they just keep coming. But most of my ideas come on the road and the first song on this was a song called 'Hurricane'. I was putting it all together and I showed it to the band and asked them what they thought and they said "It sounds good bro'" (laughs) My guys are always very kind to me they never say they're terrible! (laughs) even Tory who's a great writer himself and Tony who people will know from Ultravox and Daniel Benjamin Hill my drummer who is a fabulous producer and writer as well.  So I played it to them over at Stonecutter's studio and they said it sounds great but we want to lay down more of a rocker  so we ended up coming up with 'Steal the Light' which I'm really grateful for, a great rock track with elements of Pop and Metal in there too. It's always been hard to categorize Enuff Z'Nuff – we're not a Metal band, and we're not simply a Hard Rock band either – I think there's a Pop element to us and a lot of melancholy! And you put all of those elements together and I think that's where all my favourite bands, that's where they come from, I'm proud to be influenced by so many great bands and wear those influences on my sleeve.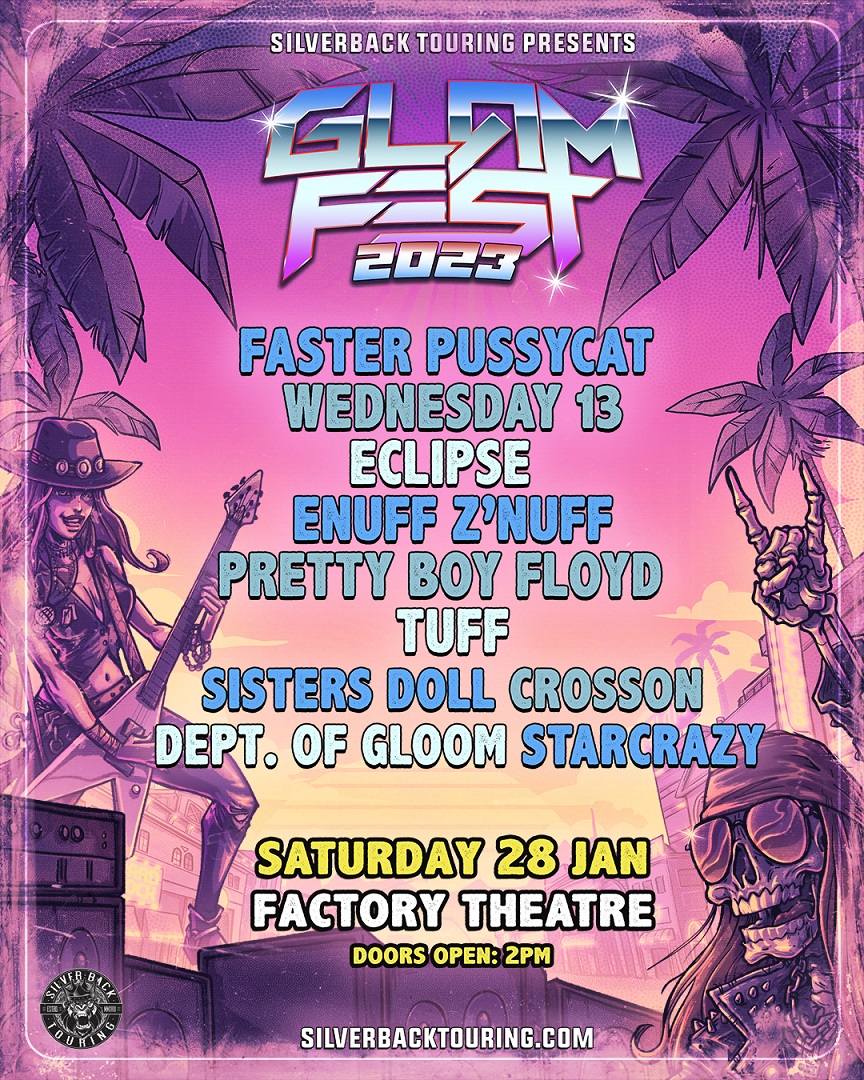 Mark: Thank you so much for the album and thank you for taking the time to talk to us again. It's always great to talk with you. Enjoy the UK and we'll catch up next year!
Chip: I can't wait! I love Australia! I love your wine, I love your women, I love your music – everything about your country is amazing, it's one of my favourite places to tour along with Japan. It's going to be a great Festival. lots of great bands there, I hope to see everyone out there and I hope everyone brings their peace signs and paisley because I'm gonna make sure it's an indoor mini-Woodstock without the mud!
Mark: (laughs)
Chip: I'll see you there!
Mark: You will indeed. Take care mate!
Chip: Always good to hear your voice 'bro, God bless you and your family. I'll see you real soon! Cheers!
SEE ENUFF Z'NUFF IN AUSTRALIA NEXT YEAR
GRAB YOUR GLAM FEST 2023 TICKETS HERE