Alex and Fergus went to school together and were in a band called Sweet Garlic at the tender age of eleven. They played the school assembly and fair to critical acclaim (from their parents). They played Aerosmiths 'Don't wanna miss a thing', Lynyrd Skynyrd's 'Sweet home Alabama' and an original called 'Living on the edge' as song written by the singer that Alex fired and replaced with Fergus.

After the Sweet Garlic fell apart, they embarked on polarizing music journeys, Fergus was in rather loose and raucous punk bands, whilst Alex delved deeply into classical and jazz piano, studying at the VCA, and taking up the guitar quite late, surpassing Fergus as a guitarist in a matter of months. And after a ten year break once again asked Fergus to sing in his band, that band would become Kingswood.
Braiden was Kingswood's lighting tech, and when the band needed a new bass player, but had a show in a week, they asked Braiden how quickly he could learn the songs, he said "I already know them". We had a short rehearsal and ran through each song once, he was flawless and the rest is history.
Whilst on tour in Europe the way we play Burning Holes live evolved into a whole new beast, so the day after our Paris show we went into the studio and recorded it. It is wonderful and you'll hear the Paris version of Burning Holes in the not too distant future. The greater picture here is that many of our songs are played differently to the recordings as they grow and morph over time.
When on tour we like to pair music and films with our surroundings around the world, to soundtrack our environment and to learn about the culture and enhance our journey. WW2 gets a big run in Europe, films and doco's. And of course in Paris,  some French romantics. In Nashville, well, that's time for some Country goodness.
Check out the brand new single 'Burning Holes'
KINGSWOOD 2022 and 2023 TOUR DATES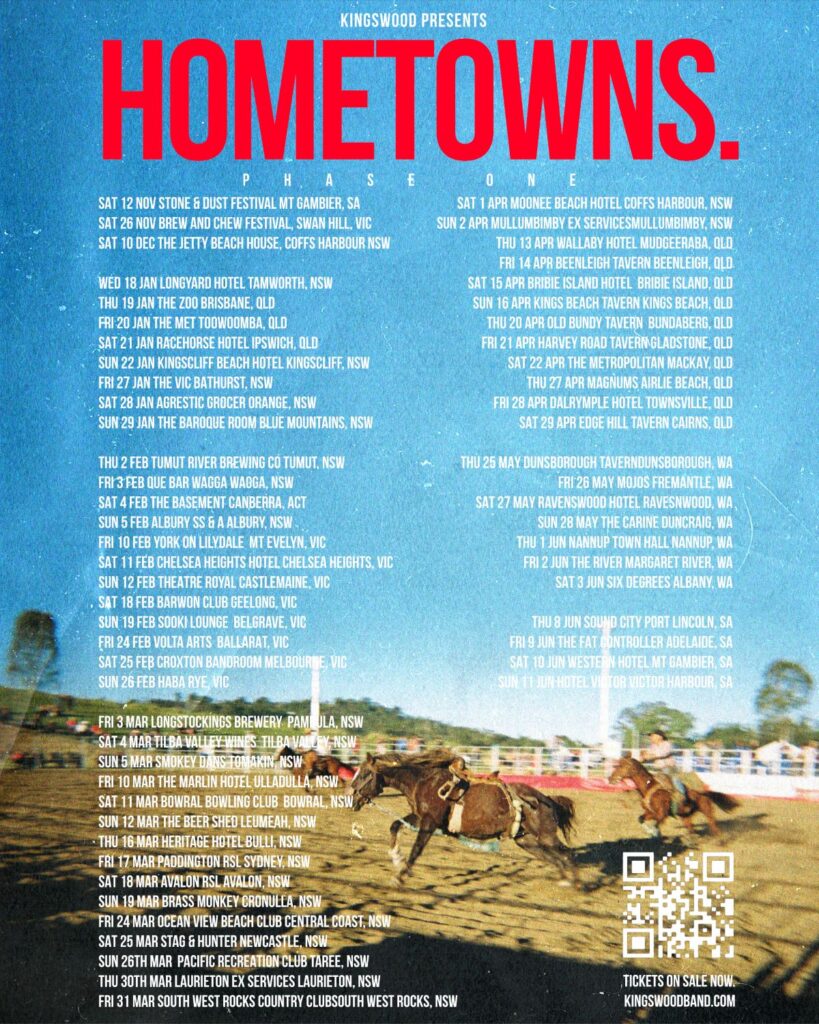 All tickets on sale NOW!
 All tickets for all shows will be via the venues and www.kingswoodband.com