The woman who really does call the road home is delighted to announce her 18-date 2023 headline UK tour. Since she hit the scene, Elles Bailey has built an enviable rep as a live-touring artist and champion of live music, as well as recording hit albums, EPs and singles, not to mention earning multiple awards.
Elles's natural habitat is live performance and touring. Small wonder that she called her sophomore album 'Road I Call Home', following her hit debut 'Wildfire'. She has consistently built her rep within the blues and rock and americana genres, earning acclaim in each and all, year after year; not to mention award after award as one of the leading UK artists in her field.
In 2019, the Bristol-based Elles Bailey was regarded as one of the country's hardest-working Blues/Americana singer, performing over 118 gigs in 17 different countries. However, along with everyone else in live music, her touring came to a halt with the COVID pandemic, lockdowns, enforced closure of venues and bans on mass gatherings.
As Elles herself has said, "March 2020 – they dulled down the splendour, silenced the show, turned off the lights, locked the doors & the live music industry was plunged into the half-light."
Yet, despite the setbacks, the ever-resilient and independent Elles continued upon her upward trajectory, playing many online performances, winning Blues Artist of the Year 2020 at the UK Blues Awards, releasing singles for charity, and releasing a live album of one performance that, in 2021, was nominated 'Blues Album of the Year'.
Towards the latter part of the year, Elles decided to finish her third studio. This album had originally been started in Nashville but, with travel now impossible, she decided to recut it with her fantastic touring band under the watchful eye of rock producer Dan Weller (best known for his long-term collaborations with Enter Shikari). 'Shining In The Half Light' earned Elles much acclaim, and thanks to her ever-loyal fanbase, the album not only soared to the top of the genre charts but also appeared on the RADAR of the UK's main album chart.
It has indeed been an incredible year for Elles Bailey, who on the back of her album success has joined forces with Planet Rock to present a regular show on the high-profile British radio station.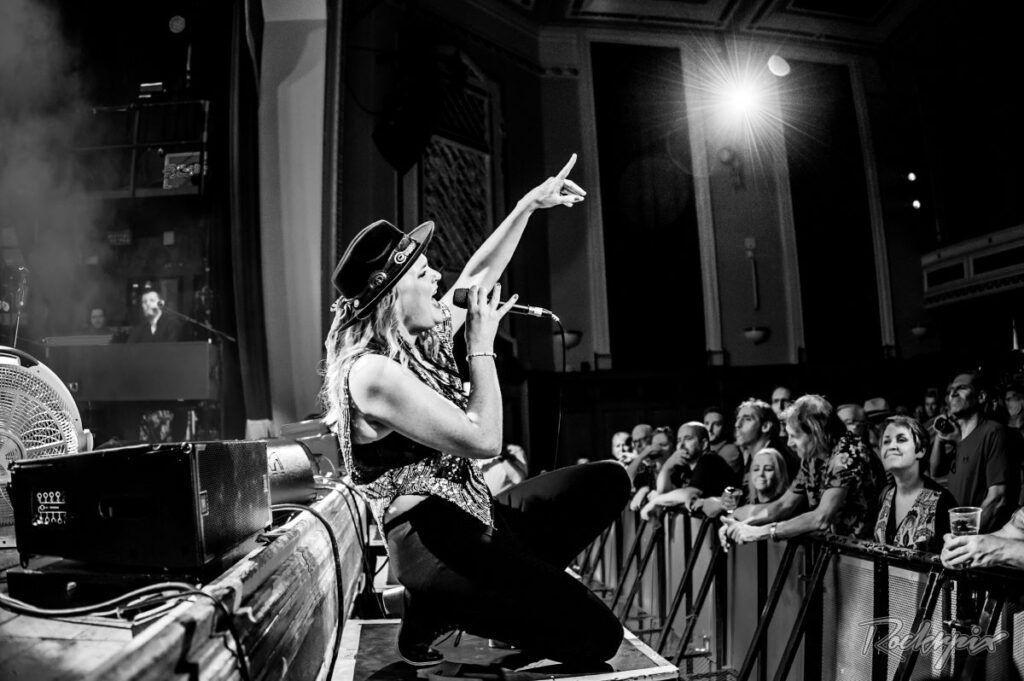 She also stepped up to support some all-time living legends: bluesmeister Walter Trout on his recent UK tour, has just finished supporting Don McLean on his UK Tour (celebrating the 50th anniversary of the release of 'American Pie'), and opened for the matchless master of Celtic Soul: Van Morrison.
August saw Elles sail and played Joe Bonamassa's 'Keep the Blues Alive at Sea Cruise', and on land in 2022 headlined multiple festivals, as well as playing key slots at Cheltenham Jazz fest, Cambridge Folk Fest, and Wilderness Festival.
"I've loved every minute of this year's festival season," says Elles, "It's been fantastic taking some of 'Shining In The Half Light' — and of course the hits — back out on the road after so long and playing some incredible festivals appearances, but it seems surreal to think that although this album has been out since spring 2022, we haven't done a full headline tour of it yet! So, I'm delighted to announce these UK dates, in support of this record of which I'm so darn proud! All the shows will be full-band shows and are also going to be celebrating the incredible musicians on this album!
Elles adds, "It wasn't easy self-releasing, on the back of a pandemic whilst juggling touring and motherhood as well, but my fans showed me how just incredible they are, and got this record right to the Number 1 spot! Now it's time to take the show on the road, support indie music and keep music live!"
Elles will be appearing in Autumn 2022 at:
19th Nov – Whitby Rock & Blues Fest
24th Nov – Planer Rock Presents – The Zeppelin Symphonic at The Palladium
27th Nov – The Harlington, Fleet
2nd Dec – Looe Rock & Blues Fest
4th Dec – Planet Rockstock
General sale 7th Oct
HEADLINE 2023 Tour
FEB 2023
3rd – Winters End, Trecco Bay
4th – Academy 2, Manchester (co-headline with Chantel McGregor)
5th – The Stables, Milton Keynes (co-headline with Chantel McGregor)
MARCH 2023
3rd – The Globe, Cardiff
4th – The Phoenix, Exeter
9th – O2 Academy 2, Liverpool
10th – The Social, Hull
11th – The Firestation, Sunderland
14th – KK's Steel Mill, Wolverhampton
15th – The Crescent Arts Centre, York
16th – The Caves, Edinburgh
17th – The Brudenell Social Club, Leeds (co-headline with Chantel McGregor)
21st – Komedia, Brighton
22nd – Junction 2, Cambridge
23rd – 1865, Southampton
APRIL 2023
1st – Lafayette, London
14th – Arlington Arts, Newbury
15th – Trinity Centre, Bristol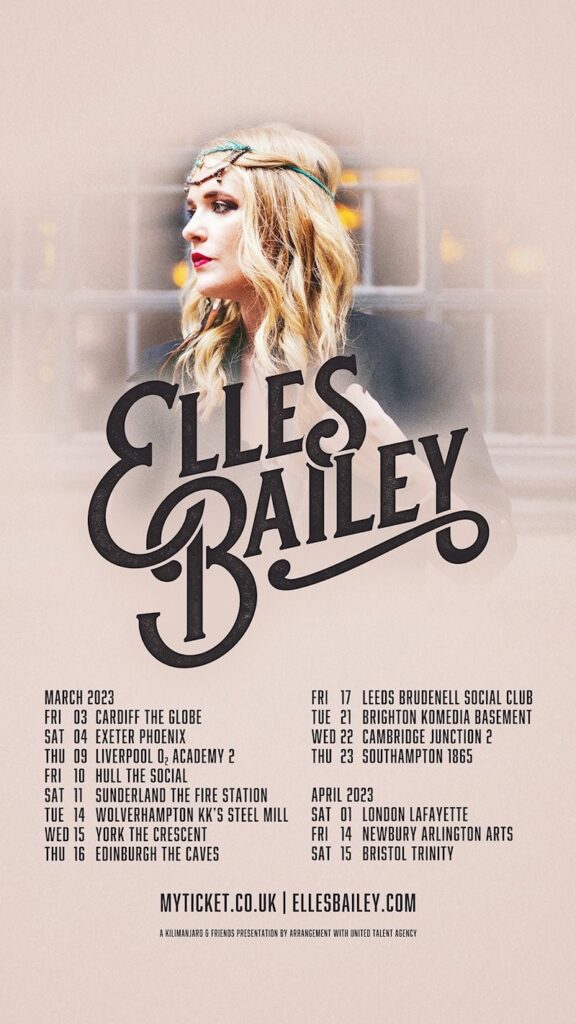 Website https://www.ellesbailey.com/
Facebook: https://www.facebook.com/ellesbailey/
Twitter: https://twitter.com/EllesBailey
Instagram: https://www.instagram.com/EllesBailey/
YT: https://www.youtube.com/user/ellesbailey