Dynamic, award-winning, 4-piece hard rockers The Howling Tides announce their brand-new, 5-track EP, 'Blue Moon', which will be released on 18th November, full of The 'Tides trademark visceral energy and tsunami of hard rock sound.
The Howling Tides are made up of: Rob Baynes (lead vocals/guitar); Hayden Kirk (guitar/backing vocals); Adam Brewell (bass/backing vocals); and Steven 'Herbie' Herbert (drums).
In the words of Planet Rock, "The Howling Tides are a gimmick-free band who play muscular rock delivered with brute force."
They've built their rep and momentum with some powerhouse releases and with high-profile festival successes at Steelhouse, Planet Rockstock, Rock and Blues and Bloodstock.
As Bloodstock pointed out, "Since they first appeared on the UK music scene in 2018, The Howling Tides have quickly earned a reputation as a ferocious live act who have more in common with The Almighty and The Wildhearts than the young new wave of Classic rock scene. Their high-energy approach is a breath of fresh air to an industry overpopulated with bands that all tend to sound the same."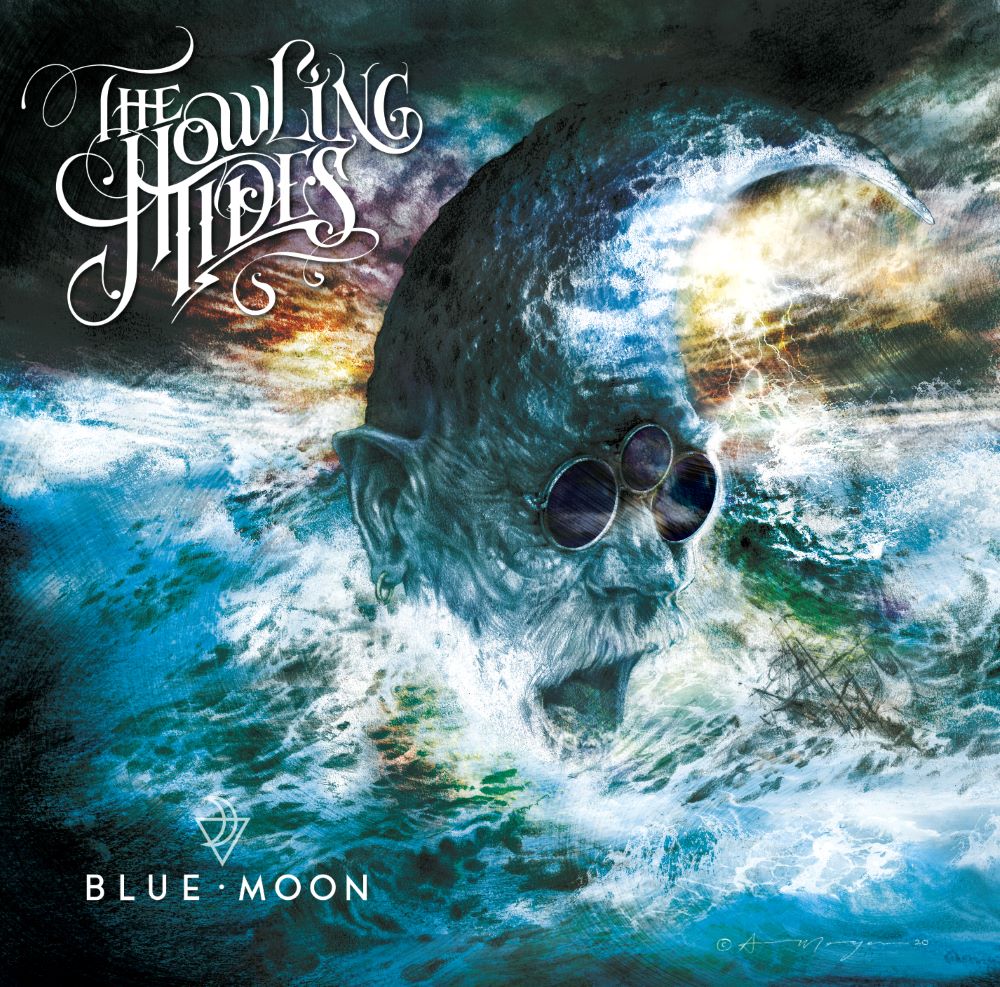 One mark of The Howling Tides' success was their Young Blood Award from HRH VI (2021). What's more, The Howling Tides have opened for Black Star Riders at the legendary Rock City in Nottingham. Playing there was a dream come true for the band's members. They've also ventured onto the Continent and played gigs in the Czech Republic, which the band felt marked a big milestone for them. The Howling Tides were also invited to join the mighty Ricky Warwick and The Fighting Hearts on their tour in 2022. Ricky Warwick himself (lead singer of Black Star Riders and Thin Lizzy, and frontman of The Almighty and more) sings their praises: "The Howling Tides are one of those unique bands that when they come along remind us why we fell in love with rock 'n' roll, and why we still are."
Maximum Volume Music echoes Ricky's praise for The 'Tides: "Recently, I've reviewed a few of the new breed of British Rock. Allow me to humbly suggest that this mob might be the best of the lot."
The 'Tides themselves are delighted to announce the new EP: "As a band, we really feel that our new EP is the next exciting step in our journey and will help make the statement we really want to make. We feel it's important to always build on what we've done, and because our ethos is to always be comfortable pushing boundaries, we really feel that our newest music is building on the sounds and vibe of our first EP and is pushing it skyward in terms of writing and musicianship.
We don't really want to be the kind of band that just keeps delivering the same song with different lyrics, we feel we have much more to offer…and this is just the start."
The 'Blue Moon' EP contains 5 tracks of brand-new music, including The Howling Tides' recent single releases; 'Thalia' and 'White Crow'. Both singles have enjoyed extensive Spotify streaming success: 'White Crow' has now hit over 110k streams and both tracks have been added to some of the major playlists. The tracks are: 'Thalia', 'Cut Your Losses', 'Fortune Never Favoured Me', 'Blue Moon', and 'White Crow'.
The 'Blue Moon' EP can be pre-ordered through The Howling Tides' website store — https://thehowlingtides.noisemerchants.com — where you can also get your hands on some exclusive bundled deals, which include the repress of the band's very first, self-title EP and an exclusive T-Shirt.
The Howling Tides will support the release of 'Blue Moon' by touring across the UK as Special Guests to The Dust Coda:
28 October: Powerhouse, London
29 October: Brickmakers, Norwich
30 October: The Fleece, Bristol
4 November: Tivoli, Buckley
5 November: The Venue, Derby
6 November: Hope & Ruin, Brighton
Limited tickets still available from www.thehowlingtides.co.uk/gigs
Photo Credit: Will Carter – Two Finger media
Website: https://www.thehowlingtides.co.uk/
Facebook: https://www.facebook.com/TheHowlingTides
Twitter: https://twitter.com/TheHowlingTides
YouTube: https://www.youtube.com/channel/UCzPqhntmUP5KaP0P3UhgbZQ
Instagram: https://www.instagram.com/thehowlingtides/